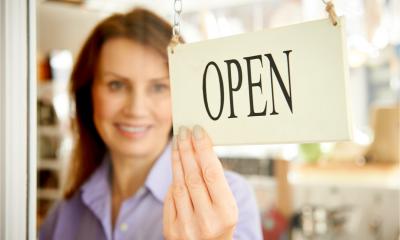 Launching a new business at any time always carries a lot of risk. You may have a brilliant idea or product, all the financial backing you need and everything else you need in place. But you can still fail, for a million and one reasons.
The economic fallout from the coronavirus pandemic has caused thousands of companies to go out of business resulting in hundreds of thousands of redundancies. The government has propped up millions of jobs by stepping in with wages for furloughed employees. Even though the long-term prognosis has improved with impending vaccine roll-out, the Bank of England warn that a historic recession could be on the cards. The UK is also due to the leave the EU on 1 January 2021, so even choppier waters could be ahead. Would any sane person look to start a business now?
Data from Companies House, various business surveys and VAT analysis shows that small businesses have been launched in record numbers since the first lockdown back in March. It's clear that many people are seeing the disruption and economic shock as a window of opportunity to capitalise on the changes caused by the crisis. Launching a new business is challenging, but it's not impossible.
Here are six tips for launching a start up during the pandemic.
Do your homework
There's no point launching a new business unless you have done thorough research into your proposition and market and are completely aware of what you are getting into. This would apply at any time of course; but is especially relevant now. It's normal for budding entrepreneurs to launch with an ambitious vision, aiming for strong growth and even bigger revenues. However, bear in mind that you're starting up in a time of crisis. If your proposition or product is a new idea, ask yourself if there's a definite need (or needs) for the product and whether it is relevant right now.
People are currently very cash-conscious and with far-less face-to-face contact due to social distancing and other restrictions, is it even possible to buy what you are offering? If your idea is something you were thinking of launching before COVID-19, ask yourself if it is still relevant now given the huge changes to the market and consumer habits. Do you need to make any changes to your proposition to make it work now or is the idea no longer viable?
Have a long-term business plan
At the outset, make a long-term business plan and make sure it is as "recession-proof" as possible. Make sure you keep your operation lean, keep budgets conservative, and make sure you have adequate cash flow to help weather any potential storms. If there is an expense you can cut or do without, then make the necessary changes.
Spend time on your plan, review it and include plenty of detail – especially if you are looking for outside investment. Remember your investors will be exceptionally wary of parting their cash; you'll need to convince them your plan gives them the best chance of getting a return on their investment.
One day things will improve as we move into a post-COVID reality. Make sure you have a clear idea of how you will adapt your business (if necessary) to take account of this.
Network
Networking is about creating and nurturing relationships - and you will need to build these to make your business a success. A vital component of any business before the pandemic, but possibly even more relevant now with unprecedented numbers of people working and running their organisations virtually. Make sure you are clear on your purpose before you make a new connection, know what you want out of that relationship and do as much research as possible beforehand. Do you have a mutual connection who can introduce you? LinkedIn is a great source of this information, and of course make sure your profile is up to date!
Remember every call you make, every email you send is crucial, and always make sure you are maintaining and developing your relationships all the time, even if you are just checking in. If you know a successful businessman (or find one during your networking) who is willing to mentor you, use their expertise and listen to what they say.
Embrace marketing
A logical and regular marketing strategy can help to grow your business, especially in these uncertain times. Communicating with your market will enable you to find new customers and forge customer loyalty. You'll also learn much about your target audience and what they like (as well as what doesn't work so well), get ahead of the competition and build your brand. All of this will put in you in a strong position to succeed both now and in the post-coronavirus world.
There are plenty of routes to market and they need not cost the earth. Social media is a great way to engage with new customers and share updates with your current ones to maintain buzz about your brand. SEO, blogging, and email marketing are other great options and there are many excellent regional and local news brands (or national ones if your proposition covers the whole country) where traditional press ads or various online opportunities can be explored.
Digital first
When the pandemic first hit, small businesses across the UK had to quickly come to terms with the "new normal", and many needed to become more creative and adaptable in order survive. Some traditional customer facing businesses quickly pivoted to digital first and have seen their businesses thrive. In fact the number of online trading businesses has surged. According to research by Growth Intelligence, there has been a retail transformation in the UK with more than 85,000 businesses launching online stores or joining online marketplaces in the four months to July 2020,.
Given the ever growing demand for online shopping, its essential for any new start up to have a solid ecommerce plan.
Be brave, don't panic and go for it!
If you truly believe that you have the right proposition, correctly researched and with a great plan, then now is the time to launch. Don't be tempted to wait for the "new normal" to arrive - it's simply impossible to guess when that will be, or what it will be like. The world is uncertain, but if every entrepreneur waited for perfect conditions to arrive, no new start ups would ever launch. Back yourself, stay positive and don't be afraid to ask for help or advice.
Copyright 2020. Featured post made possible by Muve Media & Marketing Ltd