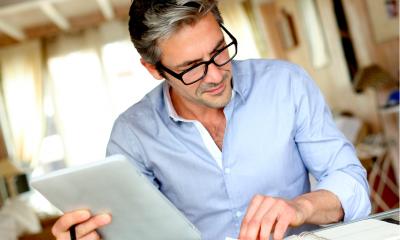 Is this your first self assessment tax return? You'll need to know what submission entails.
It's really not your average form. There's a substantial amount of information you'll need to complete the form accurately and to be sure you comply with the requirements.
Thankfully, Mike Parkes from GoSimpleTax has provided the necessary steps to empower you to file with ease.
Step 1: Register in time
You can't just fill in the information and submit your return - there's a registration process you will need to complete beforehand. You will need to register for a self assessment tax return and Unique Taxpayer Reference (UTR) number.
There's a deadline for this too - 5 October of your business' second tax year. If you missed this deadline, you could receive a penalty.
And, if you missed the deadline, it doesn't mean you don't have to file the tax return. You need to contact HMRC asap so that they're aware and can advise you on your next steps.
Step 2: Have all the relevant data
Once you have registered, HMRC will send you a UTR number. You need this 10-digit code in order to file your self assessment tax return.
You will need a range of other information such as your National Insurance number, evidence of all income and expenses, and any pension or charity contributions.
Make sure you include any untaxed income too. Remember, this may not necessarily come from self employment. There are many other forms of income – for example, from employment or income from property or sources abroad. There are supplementary pages for each type that you'll need to complete and return with the main pages of the tax return.
Register here for to get your 15% discount on GoSimpleTax software
Step 3: Remember to pay
The tax return process isn't over once you click the submit button – you'll need to pay any tax owed too! The deadline for this is the same as the due date for the tax return. Namely midnight on 31 January 2021.
Depending on how you choose to pay, you should allow up to five working days for the payment to go through. With this in mind, it's best to file and pay as soon as possible – especially as late payments can carry a penalty too.
If you want to pay your self assessment bill via your PAYE tax code for next year, you need to file your return by the 30 December.
Remember, there's another payment deadline – 31 July – which is applicable if you make payments on account.
Submit faster with digital tools
The quickest way to complete these steps in good time is to adopt self assessment tax return software. It will save you a substantial amount of time and will offer you a range of handy functions.
The main benefit is that is takes away the repetitive data entry and calculations. You can enter information (like income and expenditure) at any point and from any device. The software will update in real time – giving you an accurate overview of your tax position.
With additional features such as tax-saving suggestions and automated reports, you'll benefit from more than just speed by going digital.
Sponsored post. Copyright © 2021 Mike Parkes, GoSimpleTax - tax return software that can help you manage your self assessment.