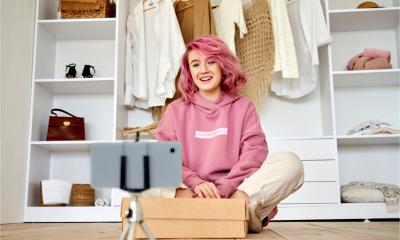 Spreading the word about a new product or service in an already crowded market is certainly a challenge, but not impossible. When we talk about promoting a new product or service, we're not talking about launching a new business from scratch. This is about expanding an existing business to offer another product or service. You should already have a business audience, so some of the work is done for you.
If you're gearing up to launch a new product or service, try these 12 promotion techniques.
1. Create video content
Video is one of the best ways to communicate with your audience. Make the most of video content to promote your new product or service by creating an unboxing video or guide to the new service.
2. Share on social media
A great way to generate buzz about your new product or service is through social media posts. Use the video content to generate more engagement and get people talking about the new offering. You can promote your social media posts for a small price to reach more people.
3. Send preview products to loyal customers
Get feedback on a new product by offering your loyal customers a sneak preview. You can ask them for a review or testimonial to help sell the product to other customers. Loyal customers will love the freebie and they'll also love being asked to help out.
4. Run a competition
A giveaway on your website and social media can help to generate buzz around your product launch. You don't have to give away the product or service. You might give away something as simple as a voucher or discount on the new product to generate some serious interest. This will help to amplify your message and reach more people.
5. Use introductory pricing
You're more likely to get existing customers on board if they can try the new product or service with minimal risk. Introductory pricing will allow you to test the new service on a sample audience and determine if the pricing is right. It's also a great way to generate reviews.
6. Email your marketing list
If you have an engaged email marketing list, they will be pleased to learn about your new product or service. Highlight the benefits and any promotional pricing they can expect as subscribers. If you're not ready to release it to the wider public just yet, you can use your email list as a test audience.
7. Offer a trade-in upgrade
If your new product or service is an upgrade of an existing product or service, you can offer a trade-in discount to your existing customers. This is an excellent way to highlight the benefits of the new version and generate some positive feedback.
8. Use customer testimonials
Early customer testimonials and reviews can be recycled into promotional materials. If you get a particularly glowing review, get in touch with the customer to find out if they would be willing to take part in a case study.
9. Offer freebies
Promotional giveaways are an excellent way to capture attention in-store or during an event. You can buy lanyards online to promote your new product. Add an information card to the front of the lanyard with a discount code for maximum impact.
10. Run an event
Attending or running an event, either online or in-person, is a great way to get the word out. You'll have an engaged audience of potential customers who are keen to learn more about what you have to offer. Add information about your new product launch to custom wristbands to help spread the word.
11. Share a press release
Local and national press are always looking for quick and easy stories to share online. By publishing a press release, you could tap into some free coverage.
12. Publish a company blog
Your company blog is a great place to share news about new product launches. If it gets indexed by Google, you could even see some organic traffic from search engines.
Copyright 2021. Article was made possible by site supporter Paul Gordon of 720 Digital Ltd.