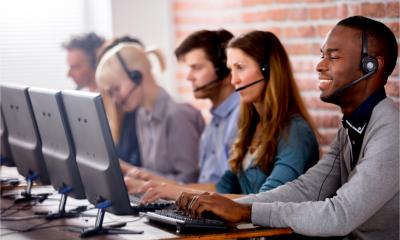 Customer care and support has become a highly developed field of work. This is especially true in companies whose internal structures involve a series of ancillary services specifically concerning after-sale service.
The most evolved companies have equipped themselves with a dedicated contact centre with the aim of satisfying every client's query, whether it's a complaint or a request for additional information about the brand or a single product.
For some businesses, customer care has become a separate branch of business activity, with its own strategies and features that characterise its daily routine. Here's the most interesting ones.
Customer care is not only about talking to customers. Many people wrongly believe that the only role of a contact centre agent' is to deal with a mass of angry clients and to try and placate their wrath. Actually, a customer support service is very different from a complaints department. And even if dealing with complaints is still a part of the job, it's true that a customer support agent should accomplish many other tasks. Collecting and cataloguing data is probably the most important one, since those records will determine the company's strategies, both in terms of production and sales and marketing.
Customer care is no longer a simple human activity. Nowadays, customer care is supported with a series of dedicated tools which simplify the agents' work. These tools include real-time insights into every single customer, comparison tools, bots that generate automatic answers to the most common queries and even a decoder that can analyse a voice to detects tone and pitch, in order to determine the caller's mood. Companies like Odigo have been able to bring all this functions together in a single virtual toolbox, and this helped to revamp the agent experience in England.
Artificial Intelligence is playing an increasing role in customer care even though it is often still in a rudimental form. The pace of development and increase in sophistication of these tools implies that automation will play a greater role in the sphere of customer care in the coming years. But unlike many other areas of work, this will not affect the number of individuals employed in customer care: human presence will always be required.
Privacy is easier to guarantee when electronic data management systems are involved. It may sound like a paradox, but a data leak is far less likely if the database is managed by software. The margin of error is reduced to a minimum and the protection system guarding the sensitive information can be reinforced with a series of more and more refined tools such as secure passwords, security questions and CAPTCHA.
Data is not stored; statistics are. An additional guarantee for customers' privacy is provided by a protocol that obliges companies to dispose of customers' data within a specific time. The only element that a company is allowed to preserve is the statistical data, totally impersonal and anonymous. In this way, companies can develop new marketing strategies, without violating their clients' private data.
Copyright 2021. Guest article edited by the Donut Blog Team.