2020 was a year to forget for many businesses. While some managed to survive the unprecedented turmoil, others faced bankruptcy due to the worldwide lockdown. In the race to survive, many businesses moved online and started collaborating online – giving SaaS businesses a boost.
This is likely to be the tip of the iceberg. According to Gartner, the share of SaaS in IT spending is likely to reach $117.7 billion in 2021. In the wake of COVID-19, companies are preparing themselves for a robust future by adapting to the latest software, tools, and technologies.
With software being more prevalent than ever before, new, and disruptive technology promises to revolutionise your work in some way or another.
However, most of the time it doesn't!
SaaS tools deliver labour, effort, and time-saving solutions. From streamlining your most complicated workflow to building documents like proposals or agreements - SaaS tools could be a game-changer for your business.
The logic of using cutting-edge technologies and the latest innovation is undeniable. To stay ahead of the competition and ensure a constant revenue stream, you need to invest in SaaS tools. Companies that make such an investment are the ones that achieve tremendous business growth.
Here are five SaaS tools that we think are well worth adopting.
1. Revv: Document management tool
Are you still filling your office cabinets with proposal or contract files? Do your employees waste time searching for a particular file from a giant pile? If so, you really need a document management tool like Revv.
These tools create an electronic archive of all your files that are accessible for use and can be edited by authorised personnel. It reduces the manual effort of managing business information from several sources.
From legal to creative firms, any business that generates a lot of data requires a document management tool. Apart from helping your business become sustainable, it streamlines and automates workflows, thereby ensuring everyone is on the same page.

Features:
allows organising, sharing, and e-signing in one central place
creates professional documents for your business
drag-and-drop document builder
readymade templates for creating proposals, contracts, agreements, quotes, letter, and business plan
provides activity tracking and sends a notification on irregular activities
allows online sharing
Google Sheet, Zapier, and Native API integration
Why use Revv: With document challenges accounting for a whopping 21.3% loss in productivity, Revv could help you scale and grow your business.
Pricing: Freemium pricing model with paid plans starting at $15 per month
2. Maze: UX research tool
You've burned the midnight oil to create a unique and disruptive product – a product that will take your target audience by the storm. But, following its launch, your product faces rejection and criticism as you discover it doesn't fit your customer's requirement.
It's your product design that's at fault, and you've probably overlooked the backbone of a good design – user experience (UX) research.
With digital customers expecting instant gratification, it's essential to get user insights before your product hits the market. That's where a UX research software like Maze comes in.
The best UX research tools are the ones that recruit participants, plan interviews, and share findings with the designer and developer.
It gives product designers insight into the performance of their prototypes based on user experience. A prototype helps the designer paint a broader picture of your product, build it, and test it while maintaining consistency.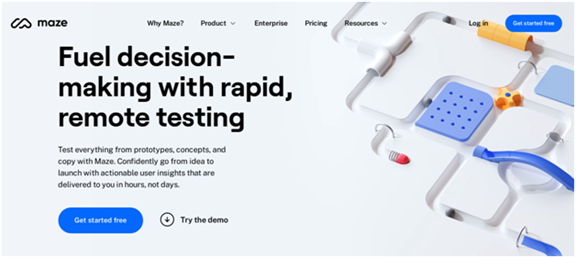 Features: 
gives actionable insights on your prototypes
builds excellent user experience
gives access to insights across different teams
brings the voice of your customer to end product decisions
provides quantifiable insights for taking strategic product decisions
moderates and records user research sessions
allows integration with many design tools, including InVision, Figma, Adobe XD, Sketch, and Marvel
Why use Maze: With 53% of customers feeling that brands fail to meet their expectations - investing in a UX research tool could be the difference between failure and success.
Pricing: It varies depending upon how many projects and seats you require. The starter pack for individual designers starts at $42 per month.
3. Trello: Project management tool
Whether you're a start up, small, or large business, you've to juggle project plans, deadlines, people, and tasks. In the ever-changing digital landscape moving post-it notes from one whiteboard to another will not help in project management.
To streamline this delicate art of project management, businesses are always looking for project management tools. From easier collaboration, better scheduling, enhanced communication to easy task delegation, budget management, and document sharing – a project management tool like Trello is your one-stop solution for growing your business.
Features:
simple organisation with collaboration using notifications and comments
easy to use
task management and project tracking
email integration
integration with top tools including Slack, Dropbox, Evernote, Google Drive, and Confluence
no-code automation allows scheduling of teammate's assignments
connects work across the app
Why use Trello: With 77% of high-performing projects using project management software, a small investment in this tool could take your business miles.
Pricing:  Freemium pricing model with paid subscription starting at $10 per user per month
4. Skype – Communication tool
With the workplace slowly shifting to the work-from-home culture, communication has never been so important.
Effective communication affects productivity, efficiency, processes, and business growth. Unless your employees communicate, reaching your business goals is next to impossible. From motivating employees to breaking organisational silos, communication is the ABC of your business. Other benefits of using communication tools include increased employee engagement, reduced email overload, increased employee productivity, and reduced employee turnover.
For effective communication that ensures everyone in the project and company is on the same page, businesses turn to communication software like Skype.

Features:
audio and video calling
smart messaging and screen sharing
call recording and live subtitles
private conversations
phone calls
connect from anywhere
share files and current location
in-built translator
Why use Skype: With the cost of miscommunication skyrocketing, communication between employees is the key to business growth.
Pricing: Free but has monthly subscription plans for making unlimited and fixed-minute calls to landlines. You can even purchase Skype credits if you want a pay-as-you-go option.
5. SEMRush – Online visibility management tool
Is your website showing on the fourth page of SERPs?
If so, your SEO strategy needs supercharging. With SEO being an ever evolving discipline, it can be challenging to keep up with the almost constant algorithm updates. Reaching the top of the search engine ranking for your keyword is an uphill battle, and that's where online visibility management tools like SEMRush come in handy.
Such tools help you explore different ways of improving the discoverability of your website. When a customer cannot find you, they will not buy from you. Your SEO strategy is what will help (or hinder) your business' ability to attract organic traffic and make it searchable on Google and other search engines.
An online visibility management tool is your one-stop-shop for improving ranking, optimising content, researching keywords, and analysing results with competitors.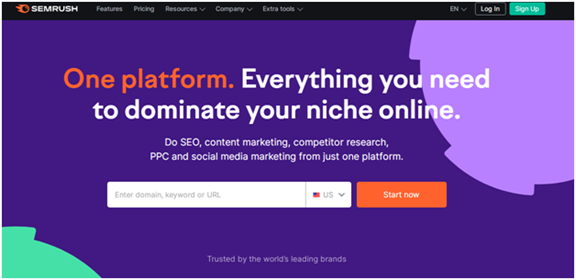 Features: 
finds the best keyword after analysis
compares SEO strategy with competitors
conducts SEO audit
suggest ways to improve campaign performance
suggest best places for backlinks
Why use SEMRush: 75% of customers never scroll past the first page of Google, making SEO even more important.
Pricing: Free-trial for every package. Subscription package starts at $99.95 per month when billed annually.
Become a part of the SaaS revolution
The success formula for 2021: Capitalise on tools and technology to win customers and streamline your workflow.
Change is inevitable. Everything, from the way you shop to the way you communicate, is very different from even a decade ago.  The same applies in business. Your business cannot afford to ignore the tools and technologies that will make your business more efficient.
If you're serious about achieving double-digit growth in 2021, you need to jump on the SaaS bandwagon without delay. These tools will help you achieve your business goals and grow your brand awareness. However, you need to pick the right tools for your business. Make sure you do your research and hand-pick the tools that will help you achieve your business goals. Think hard before adopting any technology or processes that could prove costly later.
Businesses that overlook the importance of these five SaaS tools are likely to lag behind competitors. Don't be afraid and try out new tools as your business growth is at stake!
Copyright 2021. Article was made possible by site supporter Arianna Lupi, SEO Executive at Skale.