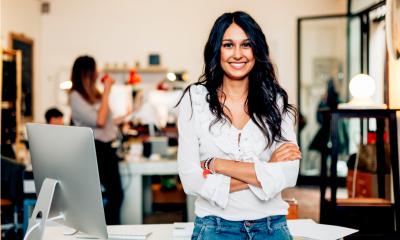 The average entrepreneur spends 68% of the time resolving regular tasks and only 32% of the time on long-term goals or strategic planning that can help their business grow.
Therefore, to grow your start up and enhance productivity, investing money in adopting the right software is one of the best ideas.
Let's look at the top five software for start ups that are great to optimize and boost your work.
1. SEMrush
SEMrush is a SaaS platform that enables organizations to run their digital marketing models and SEO campaigns. SEMrush provides you an all-in solution. It offers solutions for SEO, PPC, content, social media, and competitive research.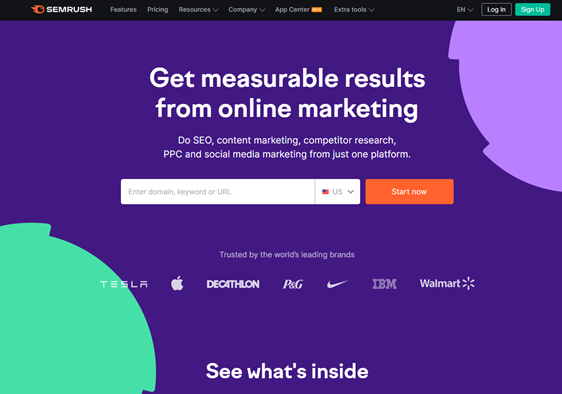 Here is how SEMrush helps your start up to grow:
Track your performance: SEMrush tells you how your content or website is performing in terms of gaining organic traffic, keyword ranking, SERP visibility, click-through rate, bounce rate, etc.
Know about your competition: Using SEMrush, you get insights into your competitor's campaigns and the keywords they are using. It helps you plan your campaigns and strategies accordingly.
Find relevant and valuable keywords: SEMrush allows you to quickly find long-tail keywords. It also helps you to find specific questions or keywords that people search online. With the help of SEMrush metrics, such as keyword difficulty, competitive density, and volume, it is easier to rank for those keywords.
Manage your existing traffic: SEMrush helps you to retain your audience when you generate leads. It enables you to monitor your existing traffic. It provides details related to your existing audience, such as keywords they are using, tracks where they are coming from, and connects with Google Analytics to see the overall customer satisfaction.
Earn valuable backlinks: SEMrush provides you the authoritative sources from where you can earn backlinks. It also gives you the information of the backlinks that your competitors hold, enabling you to make better SEO strategies.
2. Zendesk
Zendesk help desk software is a popular tool for creating better customer experiences. With multi-channel support and self-service capabilities, the software automatically assigns a ticket to each issue and tags them to the customer's history. Companies like Siemens, Uber, Khan Academy, Tesco, and Mailchimp are customers of Zendesk.
Here is how Zendesk helps your start up to grow:
You can select the best channels for your customers. The software lets you choose between phone, email, live chat, and texting.
It connects the customers to the right agents without having to repeat the issue.
To provide great customer support, you can integrate Zendesk with different third-party apps like TypeGenie, ChargeDesk, and Botmind.
With proper tracking and analytics, you can see how promptly the issue was resolved and how happy the customer was.
Team collaboration stays active as agents can easily collaborate with other colleagues to quickly resolve the issue.
3. NordPass
The NordPass password manager is a must for start ups to organize different passwords and keep them secured. Hackers use a variety of tricks to steal your passwords. Password managers allow you to keep random passwords for different accounts and keep your credentials safe.
Here are the top features offered by NordPass:
You can save all your passwords without the need to leave the browser.
There is no need to reset your passwords because you can always find them on NordPass.
Login is fast and secured in just a click.
You can access your passwords from anywhere even when you are offline.
You can even store your credit card information and use them when you want.
The software is designed by cybersecurity experts and uses the latest technology to protect your data.

4. MailChimp

MailChimp was founded in 2001, intending to create an affordable email marketing service for small enterprises. It has now grown into a full-fledged marketing platform. It offers landing pages, websites, email campaigns, postcards, etc.

It is a top-rated email marketing service that offers high-level email marketing to small enterprises with both freemium and affordable pricing plans.

MailChimp's free email software offers pre-made email templates, opt-in popups, signup forms, audience segmentation, and basic personalization. You can easily create, execute, and analyse email campaigns. It also offers you the mobile app to view campaign performance.

Also, MailChimp's built-in analytics tool helps you track open rates, clicks, and segment data to understand what is working for you and what is not. It also allows you to automatically send targeted emails based on user behaviours. For example, a related and relevant product recommendation for a recent buyer.

5. Canva

Canva is an online video and graphic design tool that allows you to create beautiful graphic designs, such as social media covers, posts, logos, cards, or event invites, effortlessly.

The freemium plan provides you access to a huge library of designs and design tools. You can easily drag-and-drop to load their templates up with your own images. You can even buy most of their graphic resources for just 1$.

Final Thoughts

Start ups have limited budgets so they need software that helps their business to grow and also to keep their data secured. The start up software discussed in this article are some of the best in the industry. Additionally, there are also free torrent sites that offer you to download software for free. If you have a limited budget, then there are several types of free software that you can download.

Nowadays, it is easier for businesses to take charge of their own growth trajectories due to the availability of various tools. However, the right mix of software will certainly make a difference in your pace and performance at any point in your start up journey. Thus, the above five tools are the top tools for those start ups that are serious to boost their success quickly.

Copyright 2021. Post by Joydeep Bhattacharya of SEO Sandwitch Blog.