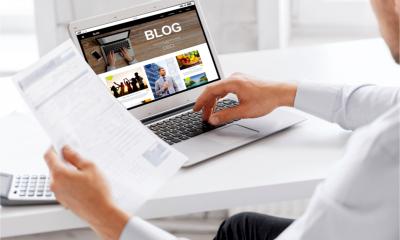 Blogging is important for your start up business for many reasons. It ensures that you can interact with your audience and even build relationships with them. A blog will help you promote your business image in exactly the way you want to.
Providing regular, useful content to your audience helps build trust for your business - a key factor in your marketing efforts. However, what you might not know about blogging is that it can also enhance your website's SEO. Through blogging, you can increase traffic to your website.
Here are the reasons why blogging might be the best way to enhance your website's SEO:
1. It boosts organic searches
Most internet users tend to ignore paid search results on search engines and prefer fresh organic content. Organic searches are the traditional form of searches with no ads, bidding, or anything that isn't related to the blog.
Sometimes internet users just want to read useful content, learn something, and engage with the blogger. Your blog helps you reach those people. Each time you write an interesting piece of content, you create a new URL for your business. And these URLs can help your website rank higher in search engines.
If you want to increase your website's SEO, the most important element is how you structure your content. Ensure that the topics are well thought out and resonate with your audience each time you post. All you need to remember is to use your keywords naturally.
This will help your audience see you as an expert in the field while also increasing your website's search engine ranking.
2. Source of fresh content
According to experts offering SEO services, there is nothing search engines favour more than fresh website content. This shows that your website is updated with the most relevant content and is not outdated. Almost every search engine prefers to present most up-to-date content and webpages for their users.
Businesses want to keep their users interested, and posting fresh content regularly is the best way to be favoured by search engines.
It's likely that some of your key pages - your about us page, price page, available products page, and your business background - will not need updating regularly. That means that the best way to regularly publish new content on your website is via blogging.
Depending on how quickly and creative you can be, you can post as many blogs as you want. There is never a limit to the content you can explore to keep your audience interested. You could even post several times a day if you have the time and resources; it's entirely up to you.
However, the more frequently you publish new content, the greater the chances of having search engines index your pages. This means you increase the chances of your website ranking as number one across the various search engines.
3. It incorporates backlinking
It can be very beneficial for your website to build relationships with other businesses and websites. Blogging offers your website the best chance to do so. Backlinking refers to including links on your website which link to other respected websites.
A well-used link will help your website increase the number of webpages associated with it and boost the chances of search engines ranking your website more highly. When you backlink correctly to an already established website, it gives you a greater chance of growing and reaching a bigger audience.
The best part of backlinking is to have the websites you linked to mentioning yours in return. This can help draw some of their traffic to yours, thus boosting your website's SEO.
4. It boosts your credibility
Blogging is the best way for your business to talk about the fundamental aspects of the field you're in. Internet users are constantly looking for new and additional information. Blogging enables you to build your website's authority.
It helps boost your credibility to current and prospective customers when dealing with these topics as an expert in the field. This will help users to see your website as informative and educational site whenever they need to learn about your industry.
When you use blogging to boost your website's reputation and to stand out from your competitors, you gain more traffic. More people will be interested in reading about your topics more often, and it'll keep people coming to your website.
This shows search engines that your website is very relevant in your field, helping you rank even higher in the search results and algorithm.
5. It helps you incorporate long-tail keywords
SEO is all about incorporating the most useful and relevant keywords so that users can easily find your website. However, can prove harder to pull off due to the thousands of websites that use the same keywords and specialise in the same field.
For this reason, you want your website to stand out from the rest. Using long-tail keywords is the best way to achieve this. Long-tail keywords refer to keywords that are more detailed than regular ones.
Most online searches include more than four words. Blogging is your best chance to cater to these users. For example, if you deal in shoes, instead of using a keyword like 'best shoes', you can be more specific to help attract more visitors.
You could use keywords like 'best shoes for jogging' instead. This will help your website appear more specific to users and increase your ranking in search engines.
6. It keeps more people on your website for longer
Since search engines aim to inform users, blogging can help your website achieve this. After clicking on a website that proves to be unhelpful, most people leave immediately.
But when users find useful information, they tend to stay on the site for longer, exploring the content. Search engines track this information to help them rank websites more accurately according to their usefulness and relevancy.
Using blogging to post informative content that appeals to more users and keeps them on your website for longer is one way to get search engines to rank you even higher. You could end up being the go-to website whenever a particular topic is involved.
7. It improves social media search results
Search engines like Google have started returning results related to social media posts. Whenever you link your blogs to your social media accounts, it helps your current audience, and prospective ones find you more easily.
If people are looking for your website via your social media accounts, search engines will make your website easy to find by ensuring it ranks higher.
Conclusion
Although blogging can take up your time, the benefits for your website are endless. Blogging can shape up to be the best way to market your business to even broader audiences.
What makes it even more suitable is that it's free to create and publish content on your website. You'll be able to interact with your audience better while increasing your website's SEO for no cost at all.
Copyright 2021. Featured post made possible by Local Digital