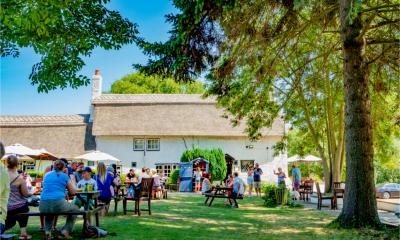 The British pub is steeped in tradition, going back hundreds of years. In fact, Ye Olde Trip to Jerusalem, based in Nottingham, UK, claims to have been set up in 1189 AD.
With many pubs claiming similar heritage, it's no surprise that the element of history attracts many new entrepreneurs to the industry, whether that's setting up their own pub or buying an existing one.
Even before COVID, there has been an increased turnover in the UK pub industry, and we've actually seen a rise in younger landlords investing in public houses. In fact, some studies have suggested that almost a third of pub landlords in the UK are women, which is significantly higher than many other industries.
Now that the world is starting to open back up, it's a great time to pursue your entrepreneurial dreams - there are plenty of thirsty customers waiting for a decent drink again! Plus, there has been a real surge in the idea of supporting local businesses as a result of the pandemic and local pubs were some of the businesses most deeply affected. This sentiment is still strong a year on.
Before you get too wrapped up in your entrepreneurial dreams, there are a few important things that any future pub landlord should consider, rounded up below...
1. Have you got what it takes?
Long hours, keeping a hawk-like watch on cash flow and having to kick out the occasional difficult drunks: being a pub owner certainly isn't for everyone.
But, if you're not afraid of dealing with a few tricky customers and love the idea of making a great income and lifelong friends, it could just be your cup of tea.
If you relish a sense of responsibility to the local community, consider that village pubs are often a social lifeline for many small towns. Taking over a pub means you'll get to know the regulars and make contacts. On the other hand, if you're located in a busy area or city, you'll have the benefit of visitors popping by just out of convenience of location, so you'll get to meet people from all walks of life.
2. Is it freehold or leasehold?
Before taking the leap and purchasing your dream pub, it's vital to check whether it is freehold or leasehold. A freehold allows you to run your pub with fewer restrictions than a leasehold, which will have restrictions on how you run it, such as the type of alcohol you sell and where you buy it from.
Essentially, if you buy a freehold pub, it's yours, much like a residential property. All profits are yours without having to fork a sizable amount out for rent. However, they can be much more expensive to buy than leaseholds - around two to three times the pub's annual turnover. Therefore, it's important to look at different funding options before jumping at the opportunity, as not everyone can afford this.
3. The running costs
How are you going to cover the costs of running the business? Make a list of physical items you will need to operate the pub - furniture, bar equipment, stock, a till and payment system, etc. You can lease some of this equipment or buy it, if you have the funds to do so. You'll also need to consider the costs of staff wages and licencing.
In conclusion...
Buying a pub can be a great way to become your own boss and have lots of fun at the same time. With so many great options out there, it can be hard to choose the perfect fit for you - but why not get started by looking at Hilton Smythe's huge variety of pubs for sale in the UK? You never know, you could find your dream pub!
Copyright 2021. Sponsored post by Lydia German of Hilton Smythe