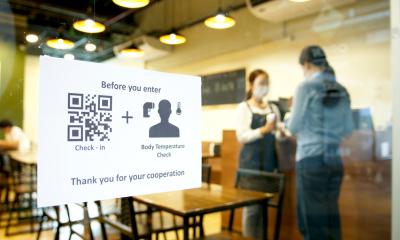 Developing a lockdown exit plan for your business could be the best way to recover after the wild ride caused by the COVID pandemic. Many companies have been closed for long periods and are now reopening under new conditions, so what can you do to adapt and thrive?
Lockdown exit – in numbers
48% of businesses surveyed by Lloyds said they would've ceased trading during the pandemic without adopting new digital technology.
48% of respondents to the same Lloyds survey used technology to simplify their business and strategy.
In the week up to 16 April 2021 there were 36% more company incorporations at Companies House than during the same week in 2019.
Footfall in retail businesses increased by 31% in the week to 17 April 2021 against the previous week.
Sources: Lloyds Bank Transformation with Tech report, Office for National Statistics, Springboard, Companies House.
What you need to know first
For many, the next stages of the lockdown exit plan will mean a return to something closer to normal trading conditions. It already looks likely that the paying public is ready to support their local businesses.
A search of Google Trends indicates that shopping locally is a priority for many. For the week that non-essential retail reopened, searches for the term "shops near me" doubled the March average. And searches for "open pubs near me" shot up from an average index value of 6 in the week before 12 April to 100 on the day lockdown eased.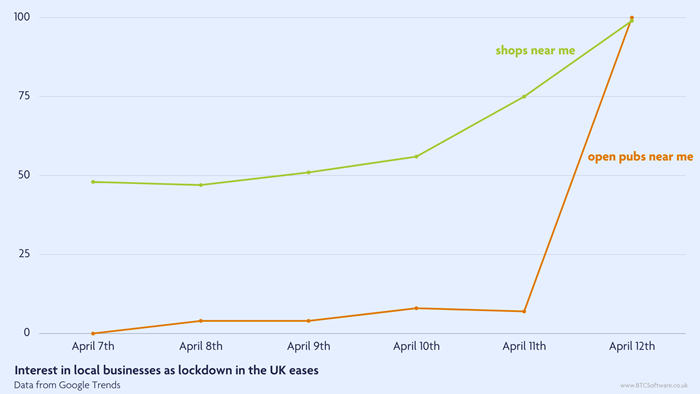 However, recovering from the impact of lockdown won't be an overnight miracle. Before we get onto planning for the future, let's take a look at the stimulus measures that were refreshed in the Chancellor's statement this Spring.
Help from the Coronavirus Job Retention Scheme
Until 31 June, the CJRS allows you to claim 80% of your employee's usual salary for hours not worked to a maximum of £2,500 a month. You don't need to fully furlough your employee to be able to claim financial support – the scheme states that you can bring employees back part time as your business requirements change and pay them normally for the hours worked. But bear in mind that you should have a written agreement for this flexible furlough arrangement and hold onto that agreement for five years.
VAT assistance
In the 2021 Budget statement, the Chancellor confirmed an extension of the reduced rate of VAT for the hospitality and tourism sectors.
And, if you deferred your VAT payment between 20 March 2020 and 30 June 2020, you have until 21 June 2021 to sign up for the new payment scheme to pay your outstanding VAT in instalments, or until 30 June 2021 to pay in full. Act now, as HMRC has published information about a potential 5% penalty or interest on payments made after that date.
There is more information on other schemes and stimulus packages on the GOV.UK website. 
Ready to open? Take the next step
So, you're ready to start trading again. What do you need to do to take the next step? Rob Ellis, CEO of BTCSoftware says: "The past year has proven challenging for many businesses who have either had to close their doors for many months or adjust to new ways of working. Owning a business means you have responsibility beyond making money, and the safety of your employees and customers is likely to have been high on your priority list alongside finding ways to keep trading. As your business moves toward reopening fully, be sure to keep your eye on government assistance, such as the Restart Grant scheme which can help you fund the adjustments you need to make in order to reopen safely."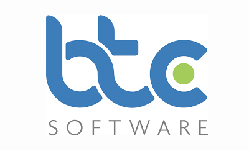 Stay profitably on track with your tax and compliance obligations with flexible accounting software from BTCSoftware.
Share work evenly and support multiple users with MTD-compliant integrations with bookkeeping software and Excel spreadsheets.
Make a plan – effective target setting
Perhaps you are ready to get started with your grand reopening, and for many that process will be well underway. But no matter where your business is on the path to fully trading again, your plans have probably changed drastically since you last welcomed customers onto your premises. Now is a great time to re-evaluate your plans and reassess what success looks like.
1. What's your mission?
Business owners and leaders know that making a profit is their number one goal, but when it comes to your mission you need to decide on a wider and deeper scale what your business stands for. In short – why does your company exist? A strong mission statement provides a beacon to guide your activities, both now and in the future. For a customer-facing business, you may put your daily interactions at the heart of what you do and have a mission to delight with fantastic service. If you provide B2B products you could set your eyes on innovation in your sector. Whatever you decide can help you make a plan to recover from a year of setbacks.
2. What do you need to do it?
This element of your plan is where the correct tools for the job come into play. Whether that's upskilling your team (training is permitted for employees on furlough) or reviewing your software processes, your business systems are vital to creating future growth. On a simple level, purchasing screens for your shop checkout is fulfilling part of your plan – but you can take it bigger. You should consider costs versus benefits but keep an eye on value too. Buying cheap tools is often a false economy if you end up paying more for a newer version six months later, or support when you get stuck. True value meets three criteria; the product is affordable, updated regularly and fully supported.
3. What do you need to do?
Step three of your plan will be the easiest. Your mission drives everything you do, and your tools give you the means to do it – so now do it! This is where you will create a list of actions, with a focus on the next few months. Set yourself a SMART objective and work out the path you need to take to get there. For most businesses, this is what they've always done. The difference this time is that you have laid strong groundwork with a mission that guides you and tools that support you.

Go out and get your results!
As you implement your new plan to recovery, be sure to check your progress regularly. By reviewing your progress, you will quickly identify and act on any issues as they arise. You'll be able to take steps to adjust your course, your tools, your skills or even your overall mission.
Try joining relevant groups on social media or bringing your team together to review measures and results on a regular basis. And don't forget to celebrate your wins along the way as you head to a brighter future with your lockdown exit plan.
Copyright 2021. Guest post by Alex Thomas, Content Executive at BTCSoftware, where they make tax and compliance easy and affordable.