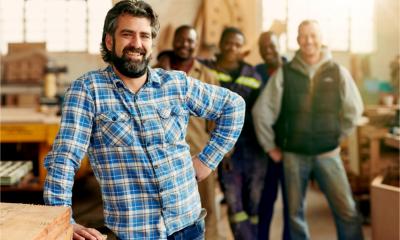 Worried that your business will struggle to fill your vacancies and that the 'big boys' will bag all the best candidates? You're not alone! Recent research reveals that job vacancies in some sectors are up by more than 55% while the number of candidates is down by 52%.
Despite these alarming stats, the experts at LinkedIn Jobs argue that being a small business may actually be an advantage when is come to finding passionate, skilled candidates that can help you achieve your business plans. They argue that simply promoting the benefits of working for a smaller firm can make your team - and job offer - more appealing. Here's how:
1. Promote the opportunity to get hands-on experience
Being a part of a smaller team gives candidates the chance to make a difference to your business every day. They will become a valued part of your team and can become a driver of change. It is much more difficult to point at an outcome in a larger firm and say "I did that".
2. Be creative with your remuneration package
You might not be able to offer the same salary as your bigger rivals, but you can offer other 'perks' that candidates value more than cash. You might offer flexi-time, home working options, staff discounts, additional holiday, training options or the chance to run their own project.
3. Offer faster career progression
Ambitious candidates will value the chance to prove themselves and 'climb the ladder'. Small firms can offer the chance to take on leadership roles and responsibilities more quickly than larger firms. Professional development opportunities and training can be a powerful motivator for many candidates.
4. Create an attractive company culture
It's easy to feel an anonymous cog in a big wheel working for a larger company. In a small team it is easier to form meaningful connections and form a close-knit team working towards a common goal.
5. Make nimble decisions
With fewer stakeholders, your recruitment process should be simpler and quicker. There's no need to keep candidates hanging on for weeks. You can choose your preferred candidate and start the process of onboarding them far sooner.
Copyright 2021. This article was made possible by LinkedIn Jobs. You can read the original article here on the LinkedIn website.