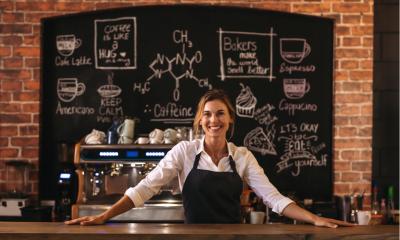 The UK is a nation of small businesses. In 2020, the number of small firms and sole traders reached a staggering six million, an increase of 1.9% on 2019. SMEs employ 16.8 million people and generate 52% of the total UK turnover. (1)
Striking out on your own might be quicker, cheaper, and easier than ever, but plucking up the courage to take that leap is never easy. Worries about funding the business and whether the business is viable often leave would-be entrepreneurs languishing in the pre-start phase.
So, what do you need to know before starting your own business?
Firstly, you need to register for self assessment with HMRC. You'll be responsible for filing and paying your taxes. Providing you're organised, this needn't be a hurdle. There's a range of cheap and simple accounting apps that can eliminate the hassle of filing your accounts.
Starting your business needn't be expensive - great news if you're financing it yourself. Many entrepreneurs operate from a spare room at home, spending evenings and weekends gradually building the business. Think carefully about which resources, materials, and equipment you really need. Keeping your start-up costs to a minimum reduces the pressure and minimises the risk of running out of cash.
Remember to keep track of all your business expenses. Many are allowable and can help reduce your tax bill. You'll need a record of your income and expenses when you file your tax return. So, make sure you keep tabs on your receipts and invoices.
Many new businesses trade solely online. You'll need to work out who your ideal customer is, where you can find them and how to reach them. A user-friendly website and social media presence is likely to be essential, unless you are trading via an online platform like eBay, Amazon, or Etsy.
Once you're up and running, you need to give customers a reason to come back for more. Keeping customers is cheaper and easier than finding new ones. Good communication, prompt delivery and helpful service can go a long way to building a great reputation and customer loyalty.
With these tips in mind, you're ready to join the ranks of small businesses. And if you're looking for a practical answer to a start-up question, why not join the Donut Small Business Collective. It's a free Facebook group made up of hundreds of small businesses just like you who have been there, seen it and are doing it.
Copyright 2021. Article written by the Donut Blog Team.