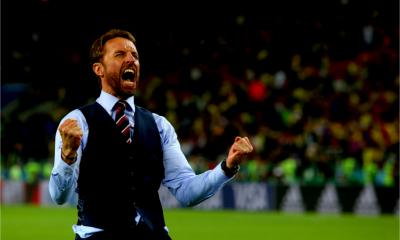 The role of England manager is, in some respects, a poisoned chalice. You can go from hero to villain in a matter of seconds - depending on the result of your latest game. Everyone seems to know the job better than you. And most are happy to spout an opinion down the pub, on social media or while shouting at the telly. It's certainly not a job for the faint-hearted.
That said, Gareth is currently enjoying halcyon days having taken the England team further than any other team since 1966. Roundly praised for his thoughtful and honest approach to management, what leadership lessons can small businesses learn from the England manager?
1. Be prepared to make difficult decisions
When it comes to sport, we're all armchair experts. Gareth has been on the receiving end of everyone's opinion from the press and pundits to the man and woman on the street about everything from tactics to team selection.

Gareth's decision to start games without Jack Grealish received a great deal of criticism from some quarters, but he has not been afraid to make a tough call. His strategic use of the Aston Villa player has changed the direction and tempo of games when he has made an appearance - even if only briefly, as in the semi-final game when Jack was subbed not long after coming on as a sub himself.

It is not your job to be popular. When making a difficult decision, you have to look at all the available information and make a call in the best interests of your business.
2. Learn from your mistakes
We all know about that missed penalty. It is replayed time and time again whenever England appear in an international tournament. Gareth's willingness to talk honestly and openly about that missed penalty has somehow diminished the power of that failure to hang, albatross-like, over his current England role.
These days, businesses are awash with data. If you run a social media campaign, monitor the results. If it isn't delivering results, act! If you miss out on a contract, review what you did to work out where it went wrong. Pouring precious cash into something that clearly isn't working is a fast track route to failure.

Be honest with staff about what isn't working - without apportioning blame. Your employees might have feedback on how you improve aspects of the business. Making it acceptable for staff to take a risk, knowing things can go wrong, can make for a more dynamic and innovative business.
3. Learn from others
Early in his career as England manager Gareth demonstrated that he was keen to learn from others. He enrolled in a course with UK Sport where coaches from different Olympic disciplines could share ideas. This continues to this day, as he surrounds himself with coaching staff and advisers from backgrounds different to his own so that he can benefit from their varied experiences, knowledge, and skills.

Your business is not unique (much as you might believe it is). There will be plenty of people out there who have been there, seen it and come out the other side. Take every opportunity to network with other small businesses, seek the advice of peers and, if necessary, take expert advice from legal or financial professionals.
4. Celebrate successes, even when they aren't yours
Post match interviews with the players have become something of a 'love in' with players frequently praising other members of the team for doing a great job. And how great did that group hug look after the second England goal - especially after all these months of social distancing?

Recognise your employees' successes openly. Give praise when it is due. Shout about new contracts, new employees, or bigger premises on social media. A feel good factor is infectious.
5. Take pride in your job
Gareth has talked frequently about his own personal pride in representing his country as both player and manager. Of his players, Gareth has said, "despite all the changes in modern football, what cannot be questioned about the current generation of England players is their pride in representing this country."

You have worked hard to build your business. Take pride in it. Look after your premises, protect and build your reputation and brand, sing about your successes, tell others why your business is great.
6. Be a role model
Gareth has been vocal about his belief that his players should not just stick to football. In his open letter to England, he said of his players, "It's their duty to continue to interact with the public on matters such as equality, inclusivity and racial injustice, while using the power of their voices to help put debates on the table, raise awareness and educate.

"This is a special group. Humble, proud and liberated in being their true selves."

Don't ask staff to do something you wouldn't be prepared to do yourself. Treat your staff and customers as you would like to be treated. Demonstrate a professional approach to your business and empower your staff to be an agent of change. In this way, your business can become one customers love to buy from again and again and one your staff enjoy being part of.
Copyright 2021. Written by the Donut Blog Team.