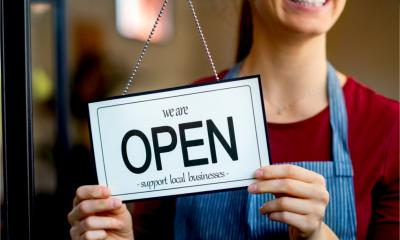 The COVID-19 pandemic and lengthy lockdowns may have adversely impacted many UK businesses but as the UK gradually returns back to normality, would-be entrepreneurs face a golden opportunity. A monumental shift in consumer spending, preferences and habits has opened the door to agile start ups that are quick to adapt to this post-pandemic world.
From shoppers embracing online buying and supporting their local high street to remote services such as tutoring and fitness classes, customer demand has shifted dramatically. Fast broadband coupled with technologies such as Zoom means small businesses can reach a greater number of customers.
With this shift in entrepreneurial thinking, it's little wonder the Office of National Statistics (ONS) recorded a 14% increase in new businesses in the first three months of 2021 compared to the same period in 2020. Greater numbers of people are discovering the skills needed to be an entrepreneur. Free online entrepreneur courses such as Learn with Start-Up Loans in partnership with the Open University are equipping a new generation of start up superstars with the know-how to succeed.
Looking to become your own boss? Here are 12 post-COVID business ideas to explore.
1. Food deliveries
Food deliveries and spending on takeaways soared during the pandemic - and it's a trend that has continued, with Mintel finding that nearly a quarter of people are spending more on takeaways than before COVID-19. A report on the BBC found that Britons are now spending around £53 per person on home deliveries, meal kits and takeaways each month – up 39% from £38 per person prior to the pandemic.
Starting a home delivery food service could be a recipe for success, along with meal kits and food boxes. With people content to stay at home, quick-fix meals can bring a range of dishes to the door – something new businesses can cash in on.
2. Online stores
Lockdown has led to a surge in online sales as shoppers flocked to digital stores – July 2021 saw a record £10bn spent at online stores as customers stayed away from brick and mortar shops. With online spending up 56% compared to pre-pandemic levels, it's a great time to build an online store and reach a national or even global market.
Online stores can be set up to sell pretty much anything – from arts and crafts to spare parts and from toys to treats. Research your niche and invest in digital marketing to win customers to your online store.
3. Letterbox subscriptions
Subscription business models have become increasingly popular. Regular monthly deliveries – from craft beer and cheese to shaving razors and flowers – are challenging single purchase businesses and ensure a predictable cash flow.
Explore offering boxes of products, such as skincare to snacks, that can be easily posted and delivered through a letterbox, ensuring your customer doesn't even need to be home to get their goodies.
4. Dog walking
Pandemic puppies have grown into mature dogs, and the UK's love of pooches seems in no rush to wane. According to the Pet Food Manufacturer's Association, a whopping 3.2m homes acquired a pet during the pandemic and there are now around 12 million dogs in the UK.
With lockdown restrictions easing, dog owners are looking for reliable, dependable dog walkers and doggy day care services to take care of their four-legged friends when they return back to the office. Consider setting up a dog walking business – professional dog walkers can earn up to £64,000 each year.
5. Dog grooming and accessories
You don't need to brave the elements to benefit from the boom in dog ownership. The average dog owner spends nearly £100 each year on gifts for pampered pooches, which makes new businesses such as dog grooming and dog accessories worth investigating in our post-pandemic world.
6. Online fitness classes
Lockdown saw many people pile on the pounds, and over half of UK adults struggled to manage their weight according to findings by the European Association for the Study of Obesity. It also saw the rise in online fitness coaching and classes, with Zoom and Teams group sessions and 1-2-1 coaching offering a great way for personal training businesses to broaden their reach across the UK.
7. Tutoring
Online video conferencing surged during lockdown – in November 2020, the number of active daily UK users of Zoom hit 1.7 million – opening up opportunities for remote businesses. With school students struggling with disrupted lessons, online tutoring is a booming business opportunity. From teaching languages to helping students prepare for exams, online tutoring lets you put your skills and experience to use without having to leave your home.
8. Gardening
Lockdown reignited Brits' love of gardening, with people flocking to their outdoor spaces to unwind and even work. Home offices have sprouted in gardens across the nation, while hard landscaping has paved the way for hot tubs, pools and patios. With a newfound interest in gardening, there's plenty of scope for gardening businesses to take root, from maintenance and landscaping to selling garden accessories to some of the three million new gardeners who are reported to have sprung up in 2020 according to the Horticultural Trades Association.
9. Crafting
Thanks to the boom in online shopping, the UK's army of crafters are able to reach more customers for handicrafts than ever before. With crafting events slowly starting back up, now might be the perfect time to start a crafting business. Shoppers are increasingly looking for natural, sustainable products, with the handmade movement providing lots of business opportunities around upcycling, repairing and reusing materials to create new products.
10. Sustainable businesses
The government's focus on becoming a net-zero carbon economy coupled with a renewed focus on environmental and sustainability issues by consumers means a post-pandemic opportunity on launching greener businesses. Stores have seen increased interest from shoppers looking to buy sustainable products and purchase greener alternatives to plastic products. Consider launching a zero-waste store offering product refills or an organic produce store selling healthy, natural food.
11. Local stores
While large chains suffered a fall in fortune on the high street during the pandemic, there has been a rise in shoppers looking to buy local and support their community stores according to research by PwC. It found that takeaways, coffee shops and local food stores were the fastest growing high street openings in 2020, with commuter towns on the outskirts of major cities seeing shoppers sticking to their local high streets.
12. Creative writing
Remote working has allowed smaller creative businesses to flourish. Armed with a laptop, a good idea and time, you can turn your hand to creative writing. You can self publish on ebook stores such as Amazon and Apple, and you needn't limit yourself to works of fiction, either. Helpful guides, insightful instruction manuals and practical books can all generate a decent income – Neilsen BookScan found that the UK book market showed growth of over 5% in 2020.
Discover more business ideas to help you bounce back with Start Up Loans.
Copyright 2021. Featured post made possible by Start Up Loans.