One of the most important resources a start up needs to have is a business website. It contains all the necessary business information and is the centre of your digital marketing efforts.
Additionally, a business website has various elements that can help you promote your business, one of which is the landing page.
Most online businesses link their landing pages when promoting their website. However, is it really necessary to have a landing page when you run a start up?
In this article, we will look closer into the definition of a landing page, its importance, and the must-have elements of a landing page.
What is a landing page?
A landing page is a page on your website created specifically for marketing purposes. It welcomes visitors that click through an email, advertisement, or other marketing media.
A landing page is designed to encourage visitors to complete a certain action, like subscribing to a newsletter, buying a product, or downloading a file.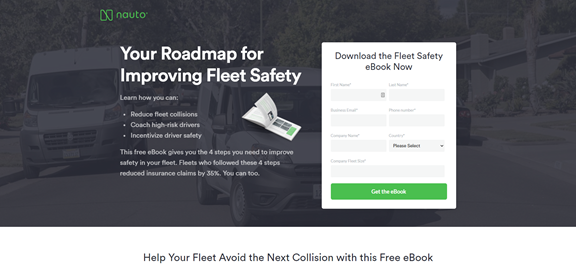 Image source
The page fulfils its purpose by successfully encouraging visitors complete the desired action – the image or text that prompts them to do so is known as a call to action (CTA). Therefore, a landing page needs a clear visual hierarchy and value proposition to avoid distracting visitors from the CTA.
There are two main types of landing pages commonly used by online marketers, namely:
Lead generation landing pages
This type of landing page is designed to collect information from potential customers. Visitors need to fill a form with data such as their name, email address, and phone number in exchange for a product or service.
Click-through landing pages
Click-through landing pages focus more on using CTA buttons that redirect visitors to complete the desired action, like downloading a file or creating an account on your site. This type of landing page is usually found on ecommerce websites.
For example, a click-through landing page typically contains an attention-grabbing CTA button with a clear message like Sign up now! or Buy a domain! Sometimes this button is accompanied by a short piece of text that explains the value offered when clicking it.
How important is a landing page?
A landing page is a great marketing tool for your online business. Approximately 68% of B2B businesses use landing pages to generate leads for future conversion. Unlike a homepage, landing pages can encourage and direct visitors to specific products or services.
A well-designed landing page can also boost your business' credibility. When visiting a landing page, potential customers can identify the value of what you're offering. That is why you need to make sure your landing page has excellent copy that conveys a clear message to visitors.
Aside from encouraging visitors to complete a particular action, a landing page can also enforce your brand characteristics. Therefore, your landing page should maintain the appearance, tone, style, and copy consistent with the main content to build a clear and strong branding. 
Six must-have elements for a landing page
This part of the article will look at six elements you might want to consider when creating a landing page for your start-up website.
1. High-quality visuals
High-quality and compelling visual element on your landing page are essential to hook visitors' attention. Visual elements such as autoplay video, interesting illustrations, or  relevant photography can keep visitors from leaving your landing page immediately.
High-quality visuals also help your landing page look more attractive and professional. To maximise their effectiveness, these visual elements also need to complement other aspects of your landing page, including its copy and CTA.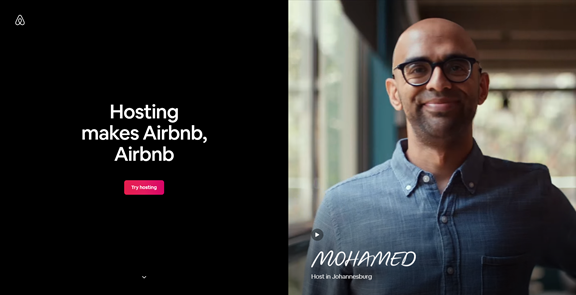 Image source
Airbnb has a great example of a straightforward landing page that incorporates compelling visuals. Visitors are immediately greeted with a clear CTA and an autoplay video featuring hosts from around the world.
2. Clear page structure
Landing pages with a clear page structure let visitors understand what to do more easily. Without a clear structure, visitors can be confused about what element to focus on when they arrive on your landing page. This potentially increases the bounce rate and makes your landing page ineffective.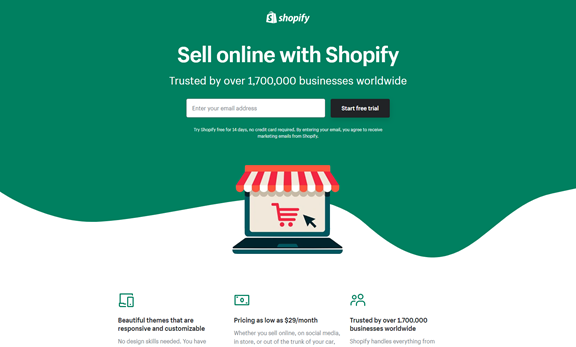 Image source
To create a clear page structure, your landing page needs to have an excellent visual hierarchy to draw the audience's attention to exactly where it needs to be. Visual hierarchy comprises various factors, such as colour, placement, and size of your page elements.
Pay attention to these factors and make sure everything works well together. Analyse your landing page to see what draws your attention the most and ask for a second opinion if needed. Once you get the answer, make some adjustments to get a clearer page structure.
3. Emotional appeal
Using human emotion is a great way to direct attention to your marketing media, including a landing page. According to some studies, people tend to rely on their emotions rather than information when it comes to brand decisions.
There are four basic human emotions commonly used in marketing strategy: happiness, sadness, fear/surprise, and anger/disgust. Choosing the right emotion for your landing page can increase its effectiveness by making it more relatable.
For example, incorporating sadness into the copy and visual elements can help a charity landing page, since it invokes sympathy from visitors. Emotional appeal can also be an effective way to express your brand's characteristics.
4. Social proof
Social proof is the term used to describe when positive experiences from previous customers influence new customers' decisions. Social proof acts as a trust signal that improves your brand's reputation.
We can even argue that social proof is more effective than well-crafted copy. A study from Nielsen found that 58% of North American consumers say they don't trust online advertising and 70% of them trust customer opinions posted online.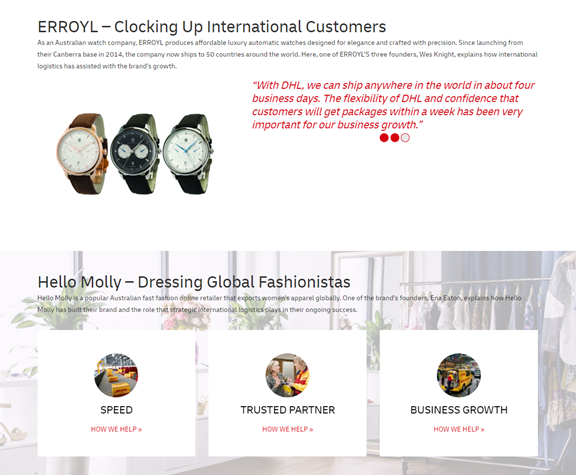 Image source
Displaying positive reviews from customers on the landing page shows that your business is trustworthy and can provide good-quality products or services. If you ever worked with big and reputable clients, showing their logo on your landing page can also boost your business credibility.
5. Special offers
Rewarding visitors who complete a CTA with special offers can significantly boost your landing page conversions. You have probably encountered a landing page that gives you discounts or cashback in exchange for signing up to their newsletter.
People may be more motivated to complete your landing page's CTA depending on the offer. However, you shouldn't feel pressured to include a costly deal on the landing page, especially if you are just starting the business.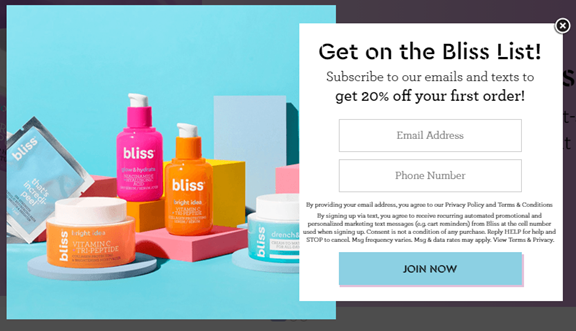 Image source
A 5% discount on the first purchase can be an interesting deal in exchange for signing up to a website. After that, analyse the users' data to improve and personalize your marketing campaigns according to their preferences and demographics.
6. Social sharing
One last thing to consider is making your content shareable. Remember that your target audiences have their own network. Allowing them to share your content helps you build brand awareness.
Ensure sharing is easy by including social media integration buttons. Some of the most popular social media platforms allow you to create buttons inviting visitors to follow your business account, share content on their timeline, or share a link via direct messaging.
To maximise this strategy, make sure that your business is active on social media platforms. It will help your brand to engage with your audience and become more accessible.
Conclusion
Landing pages are a great way to convert your leads into paying customers. They are specifically designed to encourage visitors to complete a specific action that converts into sales or improve your marketing efforts. Landing pages can also help companies introduce the value of what they're offering.
Aside from learning about the definition and importance of a landing page, we also looked at six must-have elements for landing pages:
High-quality visuals
Clear page structure
Emotional appeal
Social proof
Special offers
Social sharing
Remember that building landing pages that convert is a process. Use the best practices in this article, and hopefully, they will help your start-up thrive in the digital market.
Copyright 2021. Featured post made possible by Jessica Paulson from SDK Marketing.