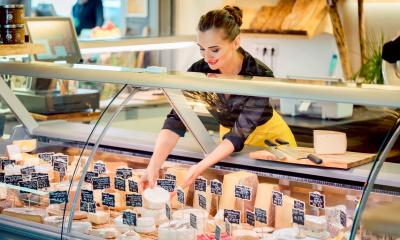 The food industry in the UK is vast. And despite the presence of large, multinational businesses, SMEs make up the majority of businesses (96%) in the food sector. The sector employed 4.1 million people in the fourth quarter of 2018 [source: Harper Adams University]. From production to manufacturing and service, the food industry is probably one of the most diverse offering something for everyone.
The Start Up Donut has guides on how to start over 180 different types of businesses. So, if you're a self-confessed foodie and a lover of all things food and drink, chances are we have a guide to help you start your own foodie business. Here are 12 business ideas in the food and drink industry to get you started.  
The traditional view of the high street bakery has had a makeover in recent years thanks to the internet. We no longer have to pop to the supermarket to get a sugary fix or freshly baked loaf. And the iron grip of the supermarket giants has been eased by an army of home bakers and online providers. They have been cooking up a delicious range of sourdoughs, gluten-free loaves, biscuits, cakes, doughnuts and brownies which arrive on our doorsteps beautifully packaged and crafted with love. So, whether you want to open a 'bricks and mortar' shop or start an online bakery, we have the guide for you.
Apply in minutes for at-home banking support designed for small businesses like yours. Enjoy banking on-the-go with zero monthly fees, 24/7 UK support and instant alerts when money comes in or goes out. Join Starling – voted Britain's Best Bank 4 years in a row.
Many of us of a 'certain age' can remember the days when everyone had milk delivered fresh every morning. At the beginning of the lockdown, there was a run on some basic provisions. Milk, flour, eggs and toilet paper were suddenly the 'must have' items (if you could get hold of them). Many turned back to their local milk delivery service as a way of guaranteeing they could get milk and other essential provisions. If you're a lark, this food business could be the perfect one for you.
Eggs and chicken are also essentials in almost every shopper's basket. If you're looking for a food business where you're hands-on with the food production process, starting a poultry farm could be for you. Conscientious shoppers keen to support local businesses, reduce their food miles and who want food traceability are on the look-out for local producers. Social media has been inundated with posts sharing details of local poultry farms and local producers offering home delivery.
Over recent years, there has been increasing consumer interest in hand-crafted artisan goods and products such as cheese. Sites like Not On The High Street and Etsy have allowed these artisans to bring their unique products to an increasing number of consumers. What's more, small batch, locally crafted cheeses often appear on the cheeseboards of the fanciest restaurants. If the idea of becoming a cheese maker appeals to you, now could be the time.
The UK has a reputation for being a nation of drinkers. There is a thriving industry of producers of craft beer, gin and cider. The UK has its own vineyards and producers of English wine and we even have festivals devoted to our favourite tipple. In recognition of this love affair, the Government announced that off-licences were 'essential retailers' during the coronavirus lockdown permitting them to remain open throughout. So, if you're itching to open your own off-licence, you could be delivering an 'essential service' in no time.
Walk down any high street and chances are you will find at least one coffee shop or café. Us Brits love a cuppa and a catch up. Coffeehouses have been the place to share gossip, debate the news and do business since the first coffeehouse opened in Oxford in 1652. The internet gave cafés a new lease of life as a mobile workplace. Most of us have checked our emails over a brew. With a wealth of commercial properties on the market, the perfect location for your new café could be right under your nose.
As an island nation, we are blessed with a wealth of great seafood. Our waterways and fish farms also produce an abundance of freshwater and sustainable farmed fish and shellfish. Fishmongers often supply their products to restaurants but interest in sustainable food has meant that consumers are increasingly looking to their local suppliers for quality-assured, local produce. If you have a passion for seafood, this could be the business for you. 
More and more of us are choosing to do our shopping away from the high street. Recent market developments have included a growing interest in organic and 'slow food', more people eating a vegetarian and vegan diet and an increasing interest in knowing where our food comes from, how it is grown and reared and who produces it. The ability to buy fresh food direct from the producer or within a few miles of the person who grew or made from a farm shop is attractive prospect for many shoppers. You could become a farm shopkeeper too.
For some, there is nothing more appealing than a glass display counter filled with artisan cheeses, locally cured hams and meats, stuffed olives and peppers and homemade pies and pastries. If the thought of peering through the chiller counter is making your mouth water, opening a delicatessen could be the perfect business opportunity for you.
Fish and chips are so ingrained in the culture of the UK, it was one of the few foods that was not rationed during the second world war. The popularity of this dish continues to this day, with queues around the block - especially on a Friday - outside the local chippies across the country.
The first supermarket appeared in the UK in London in 1948. The self-service revolution soon took hold and the smaller, independent shops could no longer compete with the massive buying power of the supermarket chains and the convenience of everything under one roof. But as consumers re-appraise the value of personal service and the knowledge and experience offered by the local shopkeeper, these small businesses have regained a foothold. And while travel restrictions and social distancing were in force, the personal service offered by the local butcher has reminded us how essential these local businesses are.
The UK is a cultural melting pot when it comes to food. Walk through any city and you will find takeaway restaurants offering everything from Italian pizza and Turkish kebabs to Korean kimchi to all-American burgers. The UK takeaway food industry was worth £8.5 billion in 2019. So, if you think you can beat your local take-away rivals or fancy entering the outside catering industry you could be on to a winner.
If you have the itch to start your own small business but aren't struck by any of the ideas above, you can always check out the many other business types we have covered.