Is it possible to have an idea but to have no idea at the same time? Yes! Imagine you have an idea for a great new app but no idea how to go about building it. As a start up founder, you can have a clear business vision, but might need an experienced partner with a technical vision - a chief technology officer (CTO) - to bring your idea to life.
A start up CTO can help you choose an appropriate tech stack and help you create the architecture to release an advanced software product. But, as a new company, it's unlikely you can afford a full-time in-house C-suite expert. If that sounds familiar, it's time to consider engaging a virtual CTO!
Benefits of hiring a virtual CTO
Having an experienced technologist in your team has multiple advantages:
Pay less
The main benefit of hiring a remote specialist is getting a senior technologist at an affordable price. Remote workers tend to be more flexible and cost-effective: you pay only for the working hours and set the most suitable working schedule. And, since qualified professionals need less time to perform tasks, you won't overpay.
Moreover, it also allows you to access a wider talent pool. You can choose a specialist with the right combination of skills you need. They can introduce cutting edge tech skills and knowledge but should also share your enthusiasm for your ideas.
Add value to your clients
A qualified, virtual CTO will have greater, up-to-date knowledge of the various technologies and industry standards to ensure your IT architecture, coding techniques, and design is optimised. Your customers will directly benefit from these advanced technologies and well-organized interfaces.
Sometimes you can use your CTO's cross-domain experience and comprehensive knowledge to modify existing solutions meaning you don't have to develop and implement a solution from scratch. So, a progressive approach to IT can level up your business and offer your clients a better customer experience. 
Don't spend time on training
Whether you need a virtual CTO for a one-off project or for a long-tern partnership, experienced technicians can start working almost the same day. All you will need is a detailed project brief, essential project documentation and perhaps a couple of virtual project planning meetings to bring them up to speed. This avoids the need to train newcomers - in fact they are likely to be updating you on possible solutions.
How to choose a remote chief technology officer
So, if you think remote technical support might be the solution to the stumbling block that is holding your business back, how do you find a CTO for hire? Here are some tips for you:
Consider which core hard skills your CTO will need. These might include technical knowledge, strategic mindset, project planning, and others.
Prepare a list of soft skills you want your CTO to possess. You might be looking for an effective leader, a good communicator, and someone with excellent organisational skills.
Create a job description. If you approach IT outsourcing companies, this document will help them find the right person for your project. It will also be useful if the day comes when you want to recruit a permanent person to the role.
Don't forget to consider the integrity and motivation of a candidate. You need to trust your CTO and be sure you share the same values.
Essential CTO skills 
It's difficult to someone without technical knowhow to state what skills a good CTO needs to possess. Since this role is at the executive level, your CTO should also demonstrate a range of non-technical qualities in additional to their technical skills and knowledge. So, every CTO should:
Know how to write programs. Coding experience in several languages is vital. The CTO should be able to understand the logic of the code and be ready to correct it, testing and debugging the code without affecting the whole algorithm. 
Ensure privacy and security to all networks and data. All processes from securing sensitive customer data to ensuring easy and quick retrieval of any internal document has to be secure. This helps protect your business from data breaches and cyber-attacks.
Add advanced technologies to the tech stack. A good CTO should be able to quickly audit your current technologies and understand which software will reach your business objectives more effectively and offer an optimized transition.
Have good communication and leadership skills. Since the CTO will have to manage a team remotely, they will need to be decisive, problem-solving, attentive to details, and able to mentor your team. They will also need to understand other executives and his tech team, so the ability to speaking both "languages" will be essential.
And here are some of the main tasks of a CTO.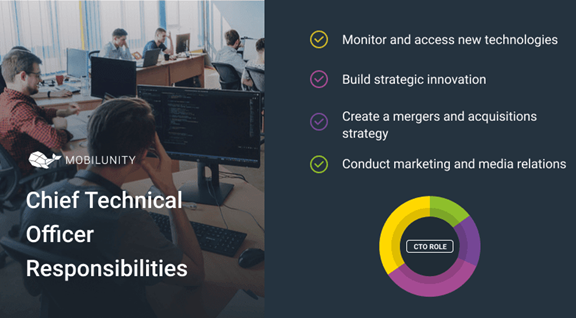 Source: Mobilunity
Hiring the right IT expert
Hiring a remote employee, especially in the IT industry, is not easy: you'll have to spend time searching, communicating, interviewing, and onboarding candidates. An outsourcing provider can handle these challenges for you. It also means you can delegate the contract, payroll, tax obligations and workplace arrangements to the outsourcing provider.
Your remote technician could be onboarded in as little as two or three weeks. All you need to worry about is the fixed service fee once you have paid the one-off recruitment and onboarding fees.
Hire an overseas CTO can give you access to the knowledge and professionalism you need for one affordable CTO salary. CTO salaries across the world vary greatly and you could save a considerable sum by working with a CTO based overseas.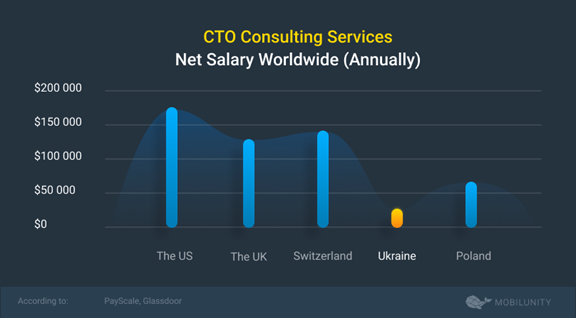 Source: Mobilunity
Wrapping up
Hiring a remote CTO for your start up business is a practical way of accessing the skills of a tech-savvy professional without spending a fortune. That's possible because you can work with top IT specialists from all over Europe. So, all you need is to do now is choose a reliable outsourcing provider and get ready to conduct your interviews. Picking the best CTO candidate from the list might be the most challenging part in building your start up's IT support service. 
Copyright 2021. Article made possible by site supporter Anastasia Stefanuk of Mobilunity.