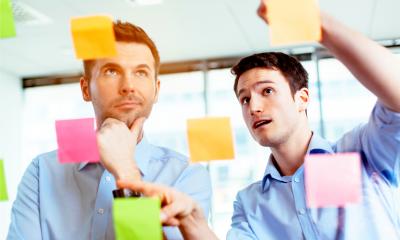 Quite simply, marketing is an essential aspect of running a business. The role of the marketer is to explain a business and its services or goods to the general public and to prepare a marketing strategy to improve a company's revenue through increased sales. Unfortunately, marketing can be difficult and time-consuming to master.
Even the most competent business owners sometimes find marketing daunting. Many small company owners abandon their marketing efforts too quickly, which is a major mistake because marketing increases your selling potential.
A great marketing plan should encompass all aspects of the business, from collating product information and producing the marketing collateral to providing excellent customer service. Therefore, you need a skilled marketing team with people who knowledgeable in all areas of marketing.
Recruiting staff with a relevant degree in marketing communication is a sure-fire way of improving your branding and communications. Moreover, there are some key skills that are a must in your team.
1. Ability to identify your target audience
You will never be able to build an effective marketing plan until you know who you are targeting. Knowing who your target audience is can help reveal their purchasing habits, which in turn can help you refine your product strategy. Understanding which products and features customers enjoy the most, allows you to create product improvements that resonate with customers.
If you're just getting started, employ market segmentation to determine the different groups of consumers you have. Once you understand your clients, you can create advertising and marketing strategies that precisely address their requirements.
2. Digital advertising knowledge
Advertising and marketing are inseparable. They can reach out to new consumers who might otherwise be missed by other marketing initiatives.
There are several ways to market your business, ranging from email and video marketing to pay-per-click advertisements. Whichever format you use, you should aim to emphasise the feel-good moments your product or services deliver.
There are a range of apps and tools that can streamline and automate your marketing. They can save time and effort and deliver valuable insights into your marketing campaigns. For example, you can utilise email marketing services and email deliverability tools like InboxAlly to ensure your message reaches your prospects.
3. Problem-solving mind-set
In my opinion, the most valuable communication attributes are not necessarily abilities, but rather qualities. Marketing is a constantly evolving and challenging industry, so if you don't have a genuine desire to stay on top of your game as your career progresses, you'll struggle.
You need to remain critical and tenacious when navigating changes within your sector or organisation. It is easy to burn out, juggling a constantly moving market and the endless data streams that pour into your business. You will need to use your problem-solving abilities to find creative and responsive solutions to this complex and changing picture. You should leverage the power of time tracking to improve productivity, manage projects and coordinate teams.
4. Effective storytelling
Effective storytelling underpins all successful brand communications. Brands often expend their energy on making a splash instead of expressing meaningful messages to their customers. In other words, they fail to utilise messaging that talks to their target consumers.
In marketing, sharing narratives is a powerful way to get customers engaged with your company. Your story should be relevant and entertaining. Always consider your audience's concerns and develop a story arc that is told across all your customer contact points.
5. Strong, versatile writing
Any marketer should be skilled in creating marketing copy. They should be able to write in a variety of formats and styles. This is because they will need to write copy for all the different elements of a marketing campaign, and in a way that speaks to different groups of customers. They need to be able to convey the uniqueness of your company or product.
You want your consumers to understand exactly what you have to offer when it comes to written content. They should avoid lengthy, drawn-out phrases by being specific and to the point. They should also be able to think critically about their target consumers and plan copy strategically.
6. SEO – Search Engine Optimisation
SEO refers to the process of improving your content to increase traffic to your website.
Your site will rank better in Google and Yahoo search results if you optimise your content. When a customer searches for products or services similar to yours, they will see your site before a competitor's if you have optimised your content. From there, customers can read your Google reviews and other customer comments about your company or click through to your site to find the product they were looking for.
As a result, SEO is a critical tool for boosting your online reputation. If you don't have the specific skills and knowledge in house, you can consider partnering with prominent agencies such as Built To Last SEO to take your brand to the next level.
7. Social media management
These days, a digital presence is essential for any business. With more and more people turning to Facebook and Instagram for purchasing recommendations, it is paramount you're you incorporate social media management into your marketing plan.
Social media can also help you provide exceptional customer service by allowing you to respond to customer enquiries and feedback faster than traditional methods. Furthermore, social media is an effective technique for increasing visibility. You may also work with influencers to successfully promote your product. For instance, Lines.com regularly engages with their fans on their Facebook profile to build a loyal following.
8. Emotional intelligence (EQ)
Relationships are essential for success, regardless of what happens with technology. You need to be able to understand and collaborate effectively with others. Emotional intelligence is an essential quality in forming and developing those relationships.
Work on how you handle disappointment and frustration. Learn how to interact with customers, clients, suppliers and peers in a calm, productive manner.
Furthermore, marketing is a collaborative endeavour. Experienced marketers must collaborate with a variety of departments, including sales and IT, to develop a successful marketing plan. Maintain open lines of communication so that everyone can work together to achieve the desired results.
9. Time management
Time management is a key skill in life, not just in marketing. Without time management, deadlines are missed, projects are not delivered, and targets are not achieved. Marketers must manage many campaign elements at the same time, from focused email marketing to social media projects.
Marketers must manage their time to ensure nothing falls through the cracks and that all targets and deadlines are reached. You can always utilise a project management application or system if you are generating and managing multiple pieces of content.
As a business owner, you should actively monitor your employee engagement to improve productivity. There are several software that you can use to ensure your employees are actively engaged.
10. Analytics
Marketing entails more than just narrative and communication abilities. Marketers need a thorough understanding of Google analytics and other data sources that reveal insights about site traffic, sales, engagement rate, and customer perception.
As the digital landscape evolves, so do the opportunities and constraints. Any effective marketing effort relies heavily on data. Data analysis allows marketers to identify what sorts of content and campaigns work effectively and where they can improve. Use these insights to guide your future marketing efforts.
Final thoughts
To summarise, not every marketer needs to be an expert in every field. Remember that a successful marketing team is not made up of a team of identical workers, but rather of people with diverse skillsets and perspectives who work together to make one complete unit.
Finally, remember that your team will need both hard and soft marketing abilities.
Copyright 2021. Post by Joydeep Bhattacharya of SEO Sandwitch Blog.