As 2021 comes to an end, many businesses will be reviewing their achievements this year and will be looking for ways to do better in 2022. One way for you to improve your business is to have a top-notch Human Resources (HR) department.
The HR department is key in determining the success or failure of your business. This department sees to the effective management of people in your business. 
The HR department ensures your employees are performing at their peak. They are responsible for employee benefits, recruitment, training, payroll, and many others aspects of people management.
The truth is these HR tasks can be excruciating and time-consuming without the right tools. This is where HR software comes in. It allows you to automate these otherwise manual HR tasks. 
This will give you more capacity to focus on HR initiatives that will move your business forward in 2022. So, this article will provide you with a list of HR tools you should have as a business owner. 
Seven top HR tools for 2022
Below are the seven best HR tools for your business to choose from for the coming year.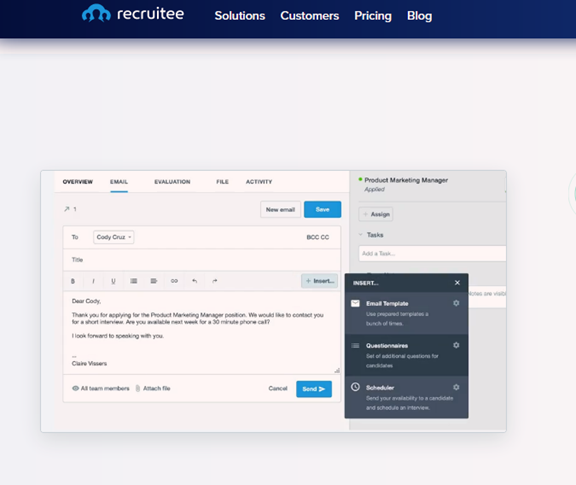 Recruitee is a talent acquisition platform that makes hiring a breeze. Hiring can be a stressful task for your HR department. But with Recruitee, you can be sure of an easier process.
This software allows you to extend, optimise, and automate your most important processes. Recruitee provides you with customisable templates that help to strengthen your hiring process. 
With this software, you'll be able to achieve data driven hiring. This will ensure you do not hire the wrong person for the job.
In addition to being user-friendly, Recruitee is also mobile-friendly. It is an Applicant Tracking Software that goes wherever you go, allowing you to keep in touch with your candidates and team 24/7.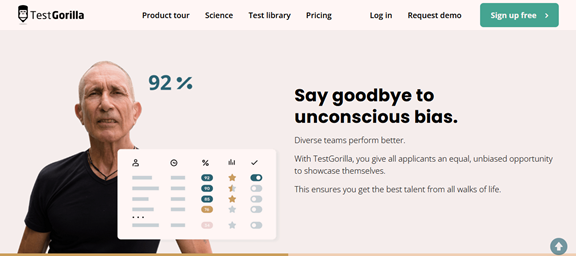 TestGorilla is one of the top hiring software solutions on the market, and for good reason. It has screening tests that help you identify the best candidates for the job. Additionally, TestGorilla makes your hiring decisions faster, easier, and bias-free.    
With TestGorilla, you can test your candidates for job-specific skills such as digital marketing, coding, etc. You can also test their general skills such as critical thinking. 
For example, if you need someone to build your website, you can use this hiring assessment for WordPress devs to test the candidates.
TestGorilla allows you to learn about your applicants as real people, not just pieces of paper, with unique personality and value traits. 
Another reason TestGorilla is a great HR tool is that it cuts down on the hiring process; say goodbye to screening CVs and pre-qualifying interviews. Instead, TestGorilla automatically grades and ranks your candidates allowing you to focus on the best people for the job.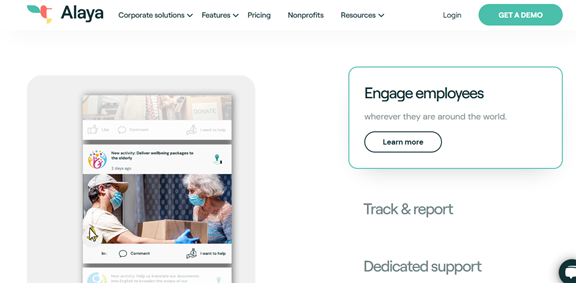 An essential duty of the Human Resource department is to engage employees. Volunteering, donations, and encouraging your workers to try new, positive habits are some ways you can adopt to engage them. 
Alaya allows for employee volunteering both online and physically. Additionally, this software lets your employees connect to your local community through donation matching and fundraisers.
Alaya is a platform that empowers your business to build a purpose-driven culture among your employees. If you don't know how to engage your employees, you can use this workplace giving program guide.
With Alaya, you kill two birds with one stone. While you engage your employees, your business is also impacting and making a difference in the world.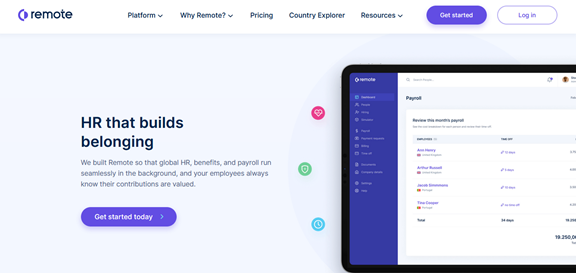 Remote offers global HR solutions for all businesses, regardless of their size. This software takes care of international payroll, benefits, compliance, and taxes. This allows your business to focus on your employees and customers. 
Remote helps enhance a company's work from home culture because you can employ people from every country of the world. But that is not all, Remote goes further to help you manage your employees, no matter where they are. 
When it comes to paying your employees (payroll), paying taxes, giving out employee benefits, and being compliant with the local laws of your employees' country, Remote has got you covered. 
Remote has officials in every continent to help you in building culturally aware employment packages for your employees. It also has in-house legal and HR experts in every region to ensure your business stays on top of the ever-changing employment regulations.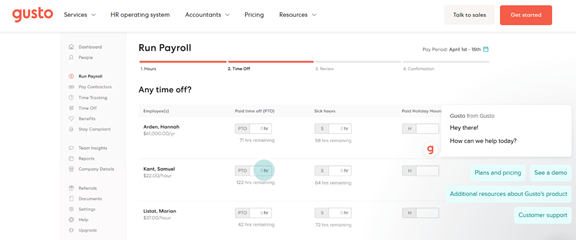 Gusto is an all-in-one platform for payroll, benefits, and HR. More than 200,000 US businesses trust and use Gusto, which should tell you that this software knows what it is doing. 
This software is a powerful HR tool that helps to empower growing businesses by providing them with a single system of record, competitive compensation tools, and data-backed guidance. 
With services like full-service payroll, employee benefits, time and attendance, hiring and onboarding, talent management, insights and reporting, and so many others, Gusto is a great choice.    
It is affordable, easy to use, and great for small businesses. It can handle your payroll and tax filing in all 50 states in the USA. 
Additionally, Gusto pays via checks, direct deposit, or even the Gusto Wallet. If you have international staff, and you are wondering how you can pay them, Gusto can also handle the payment of international contractors.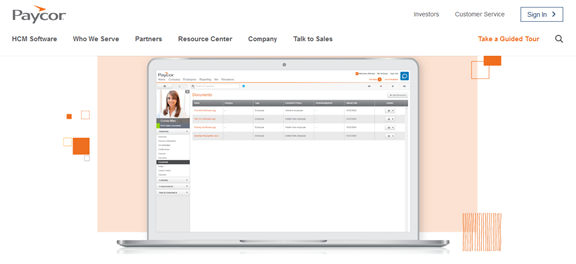 Paycor is an industry leading HR software; it helps create great places of work for their employees. From the way you recruit staff to their training, development, payment, and retainment, Paycor is there for you. 
Paycor is software that is tailored to your business needs. You can customise it anyhow you like, by industry, size, or role.  
Paycor understands that everyone depends on leaders, but who do leaders depend on? So, they do all they can to help leaders build winning teams. 
Paycor provides HR + Payroll integration, talent management, workforce management, employee experience, and benefits administration. Additionally, its time tracking feature is one of the best and easiest to use in the industry.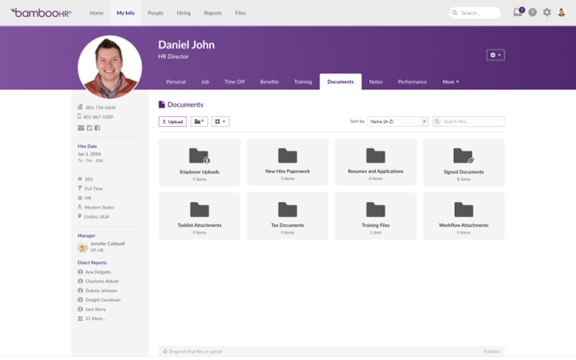 BambooHR is an HR software that collects and organises all the information you gather throughout your employee life cycle. The software then helps you to use this information to achieve great things.
While BambooHR takes care of onboarding, preparation of compensation, and building culture, you have the time and insights to focus on your people (the most important assets).
Gathering, storing, and analysing employees' data is a huge part of the HR department does. However, it takes a lot of time and effort to carry out these tasks manually. 
Thankfully, with BambooHR, all your employee information lives in a single yet secure database. Furthermore, this information is right at your fingertips.
Finally, hiring the right people for your job openings can be a slow and inconsistent process. Luckily, this HR software introduces a modern approach to hiring with various applicant tracking tools.
Features to look out for when selecting HR tools
Because there are many HR tools, software, and platforms on the market today, selecting the best can be a little challenging. This is why this article has provided you with some features to look out for when choosing your HR tool.
1. Payroll integration
Payroll is a major duty of the HR department. So, your HR team will need software that integrates payroll tasks with their other HR duties. This makes it easy to handle all the tasks in just one place.
For instance, software like Paycor combines payroll with other HR duties like workforce management. 
2. Airtight security
HR and payroll records hold sensitive and confidential data about employees, and by extension, the business. These records include home addresses, dates of birth, bank account details, and many others. 
Because of this, the HR software you go for has to have the highest level of security.
3. Onboarding tools
Onboarding is the hiring, training, and orientation of new employees to your business. If your HR department does not carry out its onboarding duties effectively, it may affect employee productivity, and your business will take a huge hit.
To avoid this, it is of utmost importance that the HR tool you choose provides onboarding services. 
4. Performance review management
Feedback on your employees' performance would help them in improving and moving the business forward. Good feedback encourages them, while not-so-good feedback pushes them to be better.
So, your selected HR software should have the ability to monitor your employees' productivity and personal growth.
5. Mobility and accessibility 
We currently live in an age where everyone is always on-the-go, and thanks to mobile phones, you can do your jobs from anywhere and at any time. 
So, when going through the various HR software and platforms, you must choose one with mobile compatibility. This allows the HR people to work outside of the office. 
Conclusion 
If you have ever underestimated the importance of human resource management, you should have a rethink. HR is a crucial part of your business, and without the right tools, it could be extremely laborious. 
With the HR tools in this article, you can be sure that processes like payroll, benefits, compliance and employee training will become effortless. 
Copyright 2021. Article made possible by Lydia Iseh for SKALE.