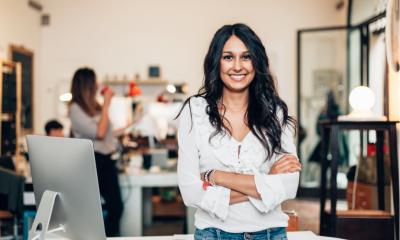 "With all that you now know, what's the one thing you'd do differently if you were to start your business again?"
That's the question we put to our community of freelancers and business owners on the Small Business Collective on Facebook. And, while the answers were many and varied, one thing stood out. Lots of you said you wish you'd started your business sooner.
No one is saying that starting a business is easy. But the message that comes across loud and clear is that much of the learning happens on the journey. While preparation is important, there comes a time when you just have to take that leap.
If you've got an idea for a business, take a few minutes to read what these business owners have to say. It's inspirational stuff.
"Start sooner! Launch a minimum viable product (MVP) quickly and gather feedback from prospective customers. There's no point spending months or even years questioning ' will customers do this?… will they want this feature?… will they pay for this?' - launch your MVP and you'll quickly find out!"
"I would start it sooner, I waited a long time going from company to company waiting for the 'dream job', only to realise that what I really loved was that initial period of help that you can offer to a company. I was scared to take the leap to being self-employed but since day one I haven't looked back. If anyone else is in the same position I would urge you to just go for it! I've met some absolutely wonderful clients along the way and I now love what I do."
"I have learnt that 'messy action beats perfection'. I spent the first few months in business producing all sorts of documents about my services before really starting to promote myself. I wanted to ensure that everything was ready by the time I gained my first client. I now realise that I should have been more confident and 'got myself there' before trying to perfect my service offering, as this will vary from client to client anyway."
"If I was to start my business again, the one thing I would do differently is employing staff sooner rather than later. I realised that once I started handing over my workload to my team that my business grew at an exceptional rate as I could concentrate on growing my business instead of just working in it."
"In all honesty, there isn't anything I would do differently. Sure, I've made mistakes along the way and suffered from burnout, but I believe these are essential experiences for any business owner. The only thing I wish I had had at the time was the belief that mistakes and bad experiences make you a better, more resilient and knowledgeable business owner."
"I would get myself out there more. I'd get myself known, push myself out of my comfort zone and make the most of every opportunity."
"I would have more confidence in myself and in the concept from the outset. I know that it is a great service after having some wonderful support and feedback but promoting it has been a learning curve - self-belief is key."
"We've approached our new venture very differently from our previous businesses. We spent two years researching before we really got going with our first business in 1995, and spent time and money on paid advertising and promotions to get ourselves known."
"Now there are so many free resources available, plus the internet, of course, the cost of setting up a business is lower and the whole process much quicker. We are still in the fledgling stage but are able to gauge interest, build an audience and conduct our research as we grow, using our Facebook group, LinkedIn and (coming soon!) Instagram feed."
"Don't stand still and be open to change! For the first six years of our business, we only ran A-Level revision courses during the holidays. They were hugely successful, our teachers received amazing feedback and our students gained excellent results. We would, however, constantly turn students away who requested one-to-one tuition. It actually took the pandemic to question why we were limiting our students to just courses - and that is how we expanded into private tuition and weekly online classes."
You can get more advice and support by joining the Donut Small Business Collective on Facebook, a friendly community of more than 2,000 freelancers and business owners keen to learn from each other and share their own experiences.
Written by Rachel Miller.