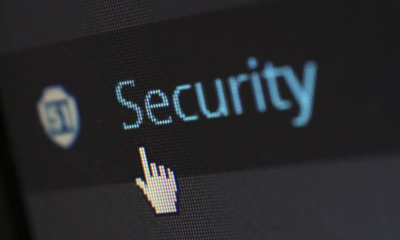 Commercial ventures are attractive targets for hackers and thieves. Business premises and virtual property are sought-after. Securing your business is essential, no matter how large or small. In this guide, we'll outline key threats and share tips to help you achieve superior security for your small business.
Securing business premises
Business premises can be incredibly lucrative targets for thieves due to the value of stock and equipment. From retail brands and hospitality venues to legal and marketing firms, medical practices and companies that offer services, can all be vulnerable. Security is evolving constantly, and there are now more options than ever for start-up and small business owners.
Securing physical premises can help to reduce the risk of theft and prevent financial losses. Modern security systems enable remote access and continuous monitoring. You can choose systems to suit your budget, location and requirements. Options range from doorbell cameras and basic alarms to CCTV, enhanced doors and windows with security screens, and alarms that link up with local police forces and security patrols. Consider your budget and the level of risk. Compare quotes and seek advice from security experts. If the threat level is low, and you don't keep valuable stock or equipment on the premises, you don't need to break the bank and invest in the most advanced systems on the market. Fitting an alarm, using safes and paying cash into the bank frequently can help you to deter thieves and lower the risk of losing money.
The most obvious threat for company bosses to be wary of is burglaries, but this is not the only danger. In a world where many businesses operate remotely and companies have arrangements with freelancers, contractors and other businesses, there are risks involved in opening up offices and workplaces. If you run an office, for example, and you have customers, people from different companies and freelancers or temporary staff visiting, you need to make sure that you know who is in the building. Using a visitor management system is an excellent way to keep your business secure and improve efficiency. With an effective setup in place, you can monitor who enters and exits the building, check their identity and ensure swift, hassle-free access for approved workers. Using software is a fast, reliable way to keep track of people's movements and eliminate delays and disruptions, which prevent workers from getting started.
If you have different people visiting your office, for example, clients, freelancers and employees and partners from other businesses you work with, it's beneficial to have a visitor management policy in place. This will ensure that everybody knows what to do when an unescorted or unknown visitor arrives.
Reducing the risk of cybercrime
Cybercrime is a major threat to small businesses. Security breaches that target multinationals and affect thousands of customers usually dominate the headlines, but statistics show that small companies are the most common target. Over 40% of security breaches affect small and medium-sized businesses. Data breaches and hacks can be devastating for start-ups and small companies that don't have the financial resources, or expertise to identify and implement solutions. Only 14% of SMEs have the tools to defend themselves. Cyber attacks can contribute to heavy financial losses and reputational damage. The damage is often so severe that businesses cannot recover. Studies suggest that 60% of small companies will fold within six months of a cyber incident.
Cyber-attacks have become more commonplace, but the range of weapons available to businesses has increased. As a company owner, it's incredibly beneficial to try to prevent incidents, rather than respond to them. Start by reviewing your cyber security policy and the systems you have in place. Identify weak points and consider working with IT experts or outsourcing IT management to implement new systems, tools or programmes to strengthen your defences and reduce risks. There are multiple ways to lower the risk of attacks, including using software, providing staff training, monitoring systems and introducing policies in the workplace.
Staff training is one of the most effective ploys for businesses. Even if you only have a small team, it's wise to ensure that your employees know how to detect threats and avoid falling into traps. Phishing scams are one of the most common problems, but they are often easy to spot if you know what you're looking for. With training, employees can check mail, verify sender information, and detect clues, such as spelling mistakes, poor grammar, threats and unusual sender ID. An IBM study suggests that human error is the most significant cause of 95% of cyber incidents.
The shift towards remote and flexible work poses new challenges for businesses in terms of security. Many employees are working from home or dividing their time between home and the office or hot-desking spaces. If your workforce is remote, or you have a hybrid system in place, review your security protocol and policies and ensure that your employees take steps to minimise risks. Use secure networks, utilise passwords and multifactor authentication to gain access to sensitive data and make sure your employees are up to date with cyber security training.
If you don't have an IT department or IT experts in your team, it's worth contacting firms and agencies to discuss managed IT services and security measures. Compare quotes, read reviews and meet with representatives to talk about packages and tailored services. Outsourcing can be cost-effective for small businesses.
Every business faces security risks. Whether you operate physical premises or you have an online business, it's essential to be aware of threats and to take steps to lower risks and protect your company. Review security systems and policies, identify threats to your business and be proactive in implementing preventative measures. Secure business premises, strengthen your physical defences and lower the risk of financial losses by keeping valuable equipment and stock out of view, using safes and transferring cash to your bank account frequently. Use software, staff training and cyber security policies and guidelines to reduce the risk of data breaches and cyber-attacks. It's beneficial to seek expert advice if you don't have IT professionals on your team.
Copyright 2022. Article made possible by site supporter Jeremy Bowler.