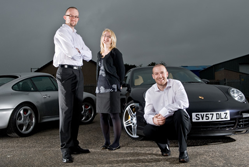 Based in Aberdeenshire in north-east Scotland, Polished Bliss is a small business run by four passionate individuals - husband and wife Richard and Angela Cooper, plus Clark Aitken and Marsha Farrell
Over a decade it has grown into a highly successful specialist car care business that dispatches more than 10,000 online orders per year worth in excess of £500,000. Ironically, the economic downturn helped the business to grow, as owners retained their cars for longer and wanted to keep them looking smart.
Polished Bliss is a multi-channel business. It sells online, through its offline shop and via mail/telephone orders. But ecommerce brings in some 90% of revenue. The business stocks around 400 quality car care products and offers car detailing (ie extremely high-end valeting) services for local motorheads, all backed by as much free advice as an owner could want.
Starting up
In 2006, Richard Cooper, a former research scientist and car care enthusiast saw a way to turn his hobby into a business, based on his detailed knowledge of how to get car bodywork to gleam.
First, the Polished Bliss website was built using SellerDeck ecommerce software, and stocked with the best car care products from around Europe. Soon the website was augmented by recruiting Clark Aitken to provide specialist detailing services based on defect correction and paint protection.
As Richard explains: "Our three-pronged approach of focusing on premium products, expert advice and high-end services is unique in the UK. Competitors offer products with little or no advice, or detailing services with no product sales. Quality, too, has to shine though in everything we do, like the radical website revamp we had done which gets lots of compliments."
Customer mix has also been key to company's success. Polished Bliss has cash-rich, time-poor clients who own prestige cars and who are prepared to pay up to £3,000 for world class detailing, as well as more than 5,000 loyal customers who buy products to get outstanding results polishing their cars at home. Richard comments: "Those who are passionate about cars will put them first - even when money is tight."
Fine detail
Sourcing the right products and negotiating exclusive deals gave the business a distinct advantage. "By detailing to the highest possible standard using only the products we sell, and by then showcasing the results on our website and internet forums, we instantly create interest," adds Richard. "And we're well placed to advise customers on the back of our professional experience, which reinforces trust and fosters loyalty."
SellerDeck ecommerce enabled Polished Bliss to punch well above its weight and to penetrate the UK car care market quickly. Ecommerce also gives lower overheads and a potential marketplace far larger than that for a traditional retail business.
A fantastic offering without marketing is nothing. Interacting with people on the site, on social media and in specialist forums, giving advice and demonstrating their expertise, have worked well. "Traditionally we've been very active on numerous car forums and this has been wildly successful, with one thread attracting more than 420,000 visits. We also Tweet daily news updates, run giveaways and show off our work on Twitter - analytics reveal that many people find our site via Twitter, so it's an important channel." Next step is a marketing strategy mixing new media alongside targeted print and radio advertising.
Team chemistry
No business can enjoy significant success unless it has the right team. Richard (marketing director), Angela (finance director) and Clark (service director) have proved a perfect combination of skills and personalities. Richard and Clark have great ideas and an eye for detail, while Angela manages the finances properly and steers her partners' enthusiasm.
Richard wants to improve fulfilment. "Securing sensible rates for delivering on time to the South of England is a challenge, because our location in north-east Scotland is remote. We're investigating using a third party fulfilment warehouse further south, or opening another outlet, but quality control remains paramount."
Other plans include enhancing the site's navigation, adding new sections and introducing video clips to showcase the products.
"Ironically, the recession was a good thing for us. The business is focused and has a superb reputation, so we were in a good position to expand even further when the economy picked up," concludes Richard.
Richard's top tips
Focus on the core of your web business first. Don't blow your budget on bespoke design work. Instead, get a simple but effective template-based website produced.
Then look at attracting customers. Early growth will provide the cash for top quality development later. Customers will forgive a basic design if your service and offerings are good - but not the other way round.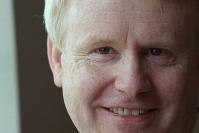 contributor
Chris Barling is the Chairman of Powered Now, a company he co-founded. An enthusiastic entrepreneur and business angel, Chris has a passion for helping small businesses take advantage of new technology. He has over 40 year' experience in the IT industry.