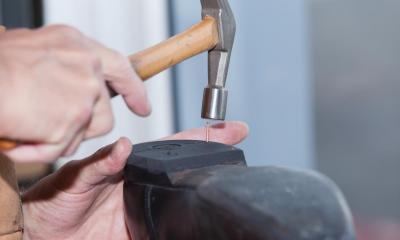 The shoe repair market is very competitive and independents may need to offer other services like key cutting. If you're thinking of setting up your own shoe repair business, read our guide for practical help and guidance.
Research your target market
Estimating demand
You will need to find out as best you can whether there is enough local demand for your shoe repair business. First of all, check out the competition. Try to identify and count the number of businesses offering some or all of the services and (less importantly) the products that you intend to provide. These will include other shoe repairers as well as DIY shops (these may offer key cutting, engraving and sharpening) and watch/phone repair shops if you offer this service (these will offer battery replacement, minor repairs, like new watch straps, glass or screens) and shoe shops (these usually stock shoe care products and accessories). Don't forget to include shoe repair businesses that operate from supermarket outlets, markets or from units in supermarket car parks.
Shop location
The location of your shop is important. A High Street shop benefits from a large amount of passing trade which means that more people get to know about it and may pop in to make impulse purchases as well as planned visits for repairs. However, High Street premises are often too expensive for the small, independent shoe repairer so other areas may have to be considered. You may, for example, consider premises located in a suburban shopping precinct. This type of premises will generally be more affordable but still serve a reasonably sized catchment area. There may also be suitable units available to let in a local market or supermarket which are likely to benefit from high levels of passing trade.
Check out local crime rates - you don't want to have to cope with excessive levels of shoplifting, break-ins and theft.
Why will customers choose your shop
You need to make sure that enough customers will choose your shop rather than any existing outlets. Check out the competition to see:
the range of services they offer
whether access is convenient
the prices they charge
their opening hours
the type of customer they are attracting
if the premises and fittings are modern and smart
With over 2,000 outlets offering shoe repairs and key cutting, Timpson is a very dominant presence in this market and much of the chain's recent expansion has been into supermarket outlets and car parks. Even if the nearest Timpson branches are quite some distance from your proposed location, you'll need to take them seriously as competitors because they are likely to be sited in locations that attract the maximum possible amount of trade.
Check out future developments
Make sure that there are no immediate plans to change your proposed area, such as new road systems which mean that local traffic will bypass your shop. You could also try to find out whether a competitor - particularly Timpson - is planning to open a shoe repair outlet in your proposed area. However, the opening of some new businesses - a supermarket outlet, for example, as long as it doesn't include a shoe repair outlet - could be a real benefit in that they can greatly increase the number of people walking past your shop.
Find out what people want
It can be a good idea to try to establish whether people living and working in your area would use your shop. You could carry out some surveys to see:
how much demand for shoe repairs there is and how much it's affected by factors like the state of the economy. It's also worth talking to any potential trade customers that you've identified like sports teams, police forces, equestrian businesses and so on that might use your business for bulk repairs to footwear and other leather goods
if there's demand for any other services that you're thinking of offering
what, if anything, the people in your area would change about existing repair shops
Research current trends, plus legal and tax issues
Customer profile
Your market
Depending on the range of services you offer, your customers will use you for shoe repairs and probably key cutting, as well as:
engraving
sharpening
watch repairs, fitting watch batteries and new watch straps
luggage and other leather goods repair
mobile phone repairs
purchases of shoe care products, laces, padlocks, key fobs, house numbers and so on and possibly shoes as well
When your shop has become established, your customer base will probably consist of a core of regular customers plus a number of infrequent or one-off customers.
It is likely that your customers will be from all walks of life and have different expectations as to how much they are going to be charged and the quality of the repair. To cater for this, you may consider offering a 'two-tier' shoe repair service which can allow you to offer, for example, both a standard and premium level of repair. The premium service would cost more and would be done using better quality materials but would not involve too much additional work for you. (You may find, however, that there would be little or no demand for a premium service, depending on the economic situation in your area.) You might also be in a position to offer bulk repairs to your local police force or army regiment.
You may consider introducing a 'while-you-wait' shoe repair service for simpler repairs. Customers may be prepared to pay a little more for this type of service unless a close competitor offers it free of charge. You might also decide to offer online shoe repairs, where the customer sends their shoes to you for repair and then you post them back once the repair has been completed, for example within 14 days.
It may be worth approaching local vehicle hire firms and any other organisation that operates a fleet of vehicles to offer them your key cutting services as they are likely to require keys cut on a fairly regular basis.
You may also get requests from riding stables to fix saddles and other items of tack. As with other specialist services, it is generally worth accepting this type of work even if you have to send it to a specialist. You may decide to add a 'handling charge' to the fee charged by the specialist so there will be a financial benefit for accepting this type of work.
Special offers and discounts
You may consider running special offers throughout the year. These can help to increase your customer base. However, it is important that you monitor your takings during these periods to make sure that you are getting more custom, rather than just giving your regular customers cheaper services.
Offering discounts could possibly boost trade at times of the year that are traditionally slow for shoe repairers (usually the summer months, particularly in dry years).
It is possible that you may also look to do 'agency' work where you carry out shoe repairs on behalf of another business. To secure this type of work, you would normally be expected to agree to an often quite substantial discount from your usual tariff.
Decide what services to offer
It's very common for a shoe repair business to position itself as a 'multi-service' outlet, offering a range of services that include some or all of the following:
shoe, boot and general leatherwear repair
key cutting
shoe and shoe care product sales
engraving
sales of accessories, such as handbags, belts and dog collars
watch repairs, fitting watch batteries and new watch straps
sharpening (scissors and tools, for example)
mobile phone repairs
Your market research will hopefully have given you an idea of the level of demand for various services in your area. Most of the services shown above require specialist equipment, so it may not be possible, both financially and in terms of available space, for you to offer all of them. During your first few months of business, you may consider using external specialists to carry out some of these services. By doing this you can gauge how much demand there is for these services without having to spend a lot of money buying the required machines and equipment and spending time learning new skills.
Something different?
As well as the services detailed above, you could consider introducing new services that others in your area don't offer. You could consider offering an online key cutting and shoe repair service - customers could email you a photo of the item to be repaired so you could give them a quote.
Anything that marks your shop out as being a little bit different may mean that people will remember you and come back.
Key cutting
Key cutting is now a very important element of many shoe repair businesses and can account for as much as 50% of a shop's turnover (the Timpson chain, for example, cuts twice as many keys as it repairs shoes). The initial cost of a new key cutting machine can be high so you may consider buying second-hand equipment.
You may be asked to cut any of the following types of keys:
'Yale' cylinder keys
double sided car keys
transponder car keys
steel mortice keys
other special car keys
coded alarm keys
You may not be able to cut all of these types of keys yourself so you could consider using the services of a specialist key cutter rather than turning away business.
Operating practices
Quality standards
Customers looking to go into a shop for the first time tend to favour ones that are bright, clean and welcoming. High Street stores - in particular the multiple shoe repair chain Timpson - recognise this and try to make their business premises as difficult to miss as possible.
Keep this in mind when you're fitting out your shop and try to make sure that it:
is clean, tidy and professionally fitted out (don't forget to look critically at the outside of the shop - smart paintwork is important)
is very clear from the outside what your shop offers (don't forget to make sure that any special services that you offer, such as while-you-wait repairs, engraving, key cutting, watch or phone batteries/repairs and so on are clearly advertised)
is staffed by knowledgeable and smart employees (if you have any)
offers a high standard of customer service
Advertising your shop
There's a number of ways that you could advertise your business, some of which will cost you little more than your time and others that require a certain budget.
Just before you open for the first time, think about advertising in the local press to let people know that your shop is about to open. You may also consider offering a 'discount with this advert' type of promotion to get customers through the door.
Don't overlook the potential of your window display. Signs in your shop window will inform passers-by about the services you offer and the products that you sell. The Society of Master Shoe Repairers (SOMSR) periodically supplies its members with eye-catching posters advertising the different services offered by shoe repairers. It is worth bearing in mind that most customers will probably associate only shoe repairs, key cutting and perhaps engraving with a shoe repair outlet, so if you are going to offer additional services you will have to make sure they are well advertised.
You can also use your shop window to advertise any special offers or promotions you will make, or to highlight any new services or product ranges you introduce.
Consider having a leaflet printed that introduces new customers to your business which you distribute to local households and workplaces.
A website is a very good way of telling potential customers about your services and prices. You could include handy shoe care tips and maybe some before and after photos showing some of the repair work you've done.
Above all, try to be original in your advertising campaigns. They need not be expensive but if you can think of new and different ways to market your shop then people are much more likely to remember you. You could try things like supporting charity events, sponsoring rubbish bins or benches around your area, inflatable blimps and so on.
Whenever possible try to leave the door of your shop open to welcome customers in. It is also a good idea to make sure that passers-by can see into your shop.
You may have a specialist repair, key cutting or other skill that you could offer to others in the trade, perhaps by advertising in a trade journal like Cutting Edge.
Price your services
It is a good idea to check how much your competitors charge for various services to make sure that you don't price yourself out of the market. Your aim may be to establish a reputation for top quality, which could allow you to charge higher prices. However, certainly in your first few months after opening at least, you may find that you have to charge prices in line with those of your close competitors in order to get enough customers, regardless of the quality of your work.
Branches of Timpson can charge quite high prices due to their prominent trading locations. You may find that you have to pitch your prices lower than theirs in order to get sufficient custom. Annual price surveys are available to download from the Shoe Repairer forum website and are also published periodically in the Cutting Edge trade journal. These give average prices charged by repairers around the UK as well as the prices charged by Timpson. The price surveys also include many of the additional services that are offered in the typical shoe repair outlet. You could use these as a guide when you set your own prices.
The manufacturers and suppliers of key blanks will also be able to give you some idea of the usual retail prices of the different types of keys. The other suppliers that you will use will also be able to give you information on the usual retail prices of other items, such as laces, shoe polish and so on. It is, of course, entirely up to you as to whether or not you follow the recommended prices.
Buy an existing business
You might decide to buy an existing farm supply business rather than start your own venture from scratch. Buying a going concern can mean that the products, customers, regular sales, staff, premises and equipment are already in place.
But buying a business can be a hazardous, expensive process unless you have the right skills and experience on your team, including legal and financial know-how. Establish the genuine trading and financial position, so that the price you pay for the business is not too high.
Other matters to consider include:
the condition of any stock you are buying. Check this over carefully before agreeing a price particularly if shoes for retail sale are included. Sales of footwear are very much dictated by fashion trends, and shoes that are out of fashion typically have to be heavily discounted. Also make sure that any glues and so on are within their 'use by' date
if you are paying for goodwill, to what extent does this depend on the skills or personality of the seller - for example, the existing proprietor may be a specialist repairer of unusual footwear