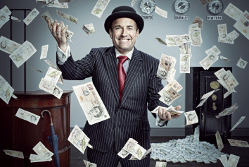 Could the reputation of banks sink any lower?
Outrageous bonuses and revelations of mis-conduct dominate headlines. At the same time, money is still being pumped into the banking sector — coming from us, the taxpayers, and printed by the Bank of England. It's all part of the Government's plan to get banks lending to businesses again.
But it just isn't working. This week's Trends in Lending figures show that loans to small businesses have fallen again and the Federation of Small Businesses (FSB) continues to highlight the "computer says no" culture in banking as four in ten SMEs are refused credit.
Enter Dave Fishwick
Dave Fishwick is an entrepreneur from Burnley. And he has a dream — to open a bank that will give savers a 5% rate of return and which will lend money to local small firms that cannot get funding anywhere else.
At first glance, Dave is not the obvious candidate to shake up the banking system. Let's just say he's not your typical bank manager. But when you're looking for a revolutionary, you need someone with passion, a straight-talker — above all, someone who never takes no for an answer.
Dave is your man. And by the time I finished watching the two-part Channel Four documentary, Bank of Dave, I was convinced Dave could single-handedly turn around the fortunes of the whole country.
What's so great about Dave Fishwick?
1.   He's a successful businessman
A self-made millionaire with a minibus firm, Dave has two rules in business — rule one is "never lose money" and rule two is "never forget rule one". He set up the Burnley Savings and Loans (shades of Jimmy Stewart in It's a Wonderful Life) and — legally unable to call it a bank — he gives it the genius slogan "Bank on Dave".
2.   He's straight-talking
Dave tells it like it is. There's a fair amount of colourful language but he's so charming — and anyway his message resonates with everyone he meets — so he doesn't offend. Not surprisingly, the high street banks get regularly trashed by him — "all they've done is s**t on people".
3.   He never takes no for an answer
An entrepreneur, according to Dave, is someone who turns no's into yeses. Trying to get a banking license from the FSA is a monumental challenge though. Banking guru Andrew Hilton tells him he's got "no chance" and that he needs £50 million just to open. Hilton also suggests that Dave's ambitions are "above his station". Boo hiss. Dave looks crest-fallen for a few seconds but then he's back up and running, telling his solicitor, "It's going to be a bank and that's that".
4.   He's a nice guy
He buys his customers cups of tea and coffee as they queue, he offers his small business customers valuable advice as well as a loan, he sings in the car and he's fond of a chip buttie.
5.   He focuses on the things that matter
Dave's main ambition is to lend money to small firms so they can grow. His branch in Burnley is basic but it does the job. What he loves to do is get out there and meet the people and lend them the money they need. There's £185 for busker that needs a new amp, £1,000 for an internet firm and £75,000 for an outdoor pursuits company. A struggling café gets money to improve its kitchen and sees business soar. A tropical fish superstore wants £5000 for a shark tank and £500 for three black-tipped reef sharks. It sounds crazy but the idea is to create an attraction to draw in more customers — and it works.
6.   He challenges the rules
Getting a bank licence proves impossible — the FSA refuses to meet him — but he finds a way around it. He gets a consumer credit licence so he can lend money. Then he finds a clever way to take deposits from savers by linking the savings to the loans. Finally, he takes out insurance so that if Burnley Savings and Loans were to go belly-up, there would be no need for taxpayers to bail him out.
The day of reckoning arrives, six months after he starts the venture. The figures from the accountant are in. They show that Burnley Savings and Loans has made a profit of £9,511. Dave is delighted. "Chip butties — come on, let's go".
Then he walks out of his tiny Burnley branch and straight into the nearest charity shop where he gives the astonished ladies at the till a cheque for £2,000. Continuing up the high street, he hands out the rest of his profit and a bit more to several other charity shops.
It's banking, but not as we know it.