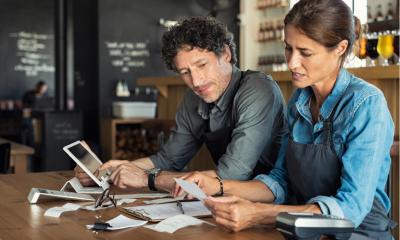 Two new quarterly business surveys have found that political uncertainty continues to adversely affect UK small businesses on all fronts, from investment and productivity to recruitment.
The FSB 2019 Q2 Small Business Index has found that SME investment intentions are at two-year low and the number of business owners describing new credit as "unaffordable" (43%) has hit a four-year high.
Most small firms (72%) are not planning to increase capital investment in their businesses over the coming quarter - the highest number since Q2 2017. In addition, 35% of small firms say sourcing skilled staff is now a major barrier to growth - the biggest proportion since Q3 2015. The net balance of small businesses that are increasing headcounts stands at a three-year low.
Overall, the UK SBI confidence measure stands at -8.8 in Q2 2019, down 22 points compared to the same period in 2018, marking a fourth consecutive negative reading. Such a sustained slump is a first for the index, which launched in 2010.
"It's impossible for small business owners to invest for the future when we don't know what the future holds," said FSB national chairman Mike Cherry. "Lifting productivity among the smaller firms that make up 99% of our business community is a must. But until we have the political certainty that enables us to take risks and innovate, achieving that goal will remain elusive."
The latest SBI has also found that only one in seven (14%) small firms are applying for new credit and 43% describe new credit as "unaffordable" - the highest proportion since Q1 2015.
"With so much uncertainty afoot, caution among lenders is understandable," said Mike Cherry. "They seem happy enough to issue new credit in some cases but are upping premiums to cover themselves. Against this backdrop, it's more critical than ever that the British Business Bank is properly equipped to build on its vital work in providing start-up loans and enabling equity investment in small firms. A sudden withdrawal of European Investment Fund support for small businesses without a suitable domestic replacement would be catastrophic."
Also this week, the British Chambers of Commerce (BCC) has published its latest Quarterly Economic Survey based on a poll of over 6,800 businesses, employing 1.2 million people. Its key findings include:
The balance of manufacturing firms reporting improved domestic orders is at a seven-year low;
The balance of firms reporting an increase in export sales has dipped to a three-year low;
A modest pick-up in service sector activity in Q2 has been insufficient to offset significant drops in Q1.
"Over the last three months, the Brexit 'pressure valve' has loosened a little for some firms, but the overall picture is still one of an economy in stasis. Many businesses and investors will continue to put off major decisions through the summer, hoping for a breakthrough in the Westminster impasse before the Brexit deadline on October 31st," said Dr Adam Marshall, BCC director general.
"To boost and incentivise investment, our business communities are looking for a bold growth agenda here at home. The next government must hit the ground running and introduce measures to reduce the upfront cost of doing business, deliver major infrastructure projects, and unblock the arteries of Britain's skills and immigration systems."
Written by Rachel Miller.