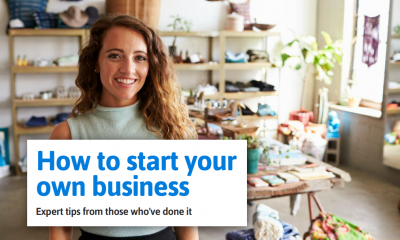 So, you want to start your own business? You're not alone. There are more than five million small businesses in the UK. It's now easier, quicker and cheaper than ever to start a business, no matter what your background.
Although it takes hard work and sacrifice, starting and running your own business can be hugely satisfying. All you need is a brilliant idea, and a little help to get the basics right. That's where the Donuts come in. We have a range of advice, tools and resources to help you on your journey.
Why not start by downloading our start-up guide below? It will guide you through the process from deciding what type of business you will start right the way through to financing and marketing your new venture - with tips and advice from small businesses that have been there, seen it and are running their own businesses.
How to start a business - free guide
Our free start-up guide gives you the lowdown on all the key issues when starting a business, including:
1. Decide what form your business will take
Hobby business, part-time, franchise or online business? What type of business will you start?
2. Come up with a business idea
Find your inspiration. Perhaps you've already spotted a gap in the market or know how to solve a problem or improve an existing product or service.
3. Do your market research
Who are your competitors and what do they sell? Who will buy from you and where can you reach them?
4. Test your business idea
Get feedback from potential customers and test your ideas before you go to market.
5. Decide what and how you will sell
Finesse your ideas and establish what you will sell and how you will take it to market.
6. Do your sums
Work out your costs and prices so you can be sure you will make a profit.
7. Write a business plan
What will your business do and how will you do it? Writing it down can help you get funding and will keep you on the right path.
8. Decide where your business will operate
Do you need premises, or can you start out at home?
9. Build your team
How will you find and attract employees when the time comes to grow your team?
10. Find suppliers
Sourcing and negotiating with suppliers so you get the right materials at the right price.
11. Naming your business
Your business name needs to create the right impression on would-be customers.
12. Create your brand
An engaging brand can set you apart and attract customers.
13. Register your business
Set yourself up as a sole trader, limited company, or partnership.
14. Create an online presence
Even if you aren't selling online, you need an online presence to attract customers.
15. Promote your business
How will customers know you exist if you don't tell them? Spread the word.
16. Get your finances sorted
Arrange start-up finance, open a bank account and set up a bookkeeping system.
Get more help starting your business
Check out the Start-up Business Course - an online training course taking you through the most common challenges start-ups face: 
getting inspired
understanding your customers
how to manage your business costs
branding and marketing your business
taking on staff
When you're starting out, there's so much to learn.
This Start-up Business Course from multi award-winning entrepreneur Nikki Hesford will answer all your questions and guide you through the most common challenges your start-up business will face.
See the other specially curated courses in our Online Training and Skills Hub. Boost your skills and knowledge, improve the training and development of your staff, learn something new and do business better.
Listen to tips and advice from start-up experts on the key aspects of starting a business and hear valuable start-up lessons from actual business owners in the Start Your Own Business Podcast.
Join our Facebook group the Donut Small Business Collective and connect with small businesses just like you. Get access to exclusive expert content, share tips and advice, and ask other members for their feedback, support and suggestions.