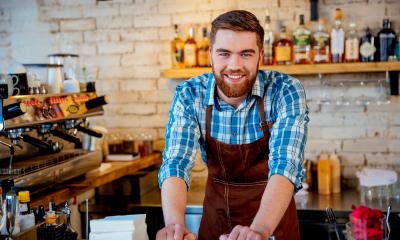 Running your own business is not easy but despite all the stress and hard work, most people that take the plunge never look back. Nine hard-working small business owners tell us why they love being their own boss
Jane Shankster, Arthur Road Landscapes
"If you land a big job, all the rewards are yours."

"There's no office politics - you don?t have to be nice to anyone else in the office just because they are your boss/the favourite employee/new and/or useless. If you need to finish at 5pm you don?t need to explain that to anyone. If you?re not busy you don?t have to stay sat at your desk looking busy. If you land a big job, all the rewards are yours. You don?t have to share with a boss or underling who contributed next to nothing.
"You can also say no; if you don?t like the look of a new client or project for any reason, you don?t have to take it on. But if a new line of business looks interesting, or a different kind of project appeals, you have the freedom to make those choices, even if you are not completely sure they will work out."
Nick Hussey, Vulpine
"I control my destiny; I'd never go back."

"I love running Vulpine because I love to effect change. If I work hard, big things happen; if I don't, nothing is achieved. It is the opposite of corporates, where you feel you affect very little. Cycling and design are my passions and I have jumped straight into that role without climbing a career ladder - I just invented a brand and designed for it with no formal education! I love making decisions; I know that I control my destiny. The hours are long; and it is very hard! But it's all for something I care deeply about. I feel such pride and satisfaction. I'd never go back."
Dee Blick, The Marketing Gym
"There's nothing unhealthy about making money from something you love."

"Four things. One is freedom ... to do amazing things - from creating products and services you know are needed, to setting your own agenda. There's no corporate strait-jacket or bureaucracy to wade through before those ideas come to fruition. Secondly, it's the opportunity to put your skills, talents and attributes into practice.
"Thirdly, it's about making a difference. Whether you make cupcakes or provide marketing services and write books (as I do), you can touch lives in a positive way. Lastly, it's about profiting from your passion. There?s nothing unhealthy about making money from something you love, that you are talented at and that people will benefit from - so when the good times roll pat yourself on the back and enjoy the fruits of your labour."
Sharon Tanton, Valuable Content
"You can design the life you want."

"It?s an adventure. I?ve had way more fun running Valuable Content with my business partner Sonja than I ever had working for somebody else. There is never a feeling of just putting the time in and being a cog in someone else?s machine. You?re building something unique that makes a real difference to the people you choose to serve. As a business owner, the strategic decisions you make matter, which is exhilarating but can be scary.
"Running your own business puts you in a unique position of being able to design the life you want ? what work do I really want to do? Who do I want to work for? What will make me happy and fulfilled? Of course, like most of the things associated with running a business, that?s easier said than done. But it?s tantalisingly possible. Maybe it?s that illusion of control that keeps you going!"
Simon Raybould, Presentation Genius
"Every day is different."

"Ultimately it's down to you. If it works, you can take the credit. The downside is that if it fails it?s your problem too. The idea is yours and the work to get everything done is yours.
"For me, it?s also about the people I work with. Because it?s my company I can decide who I want to work with. If I find someone too annoying, I simply don?t do a project with them. In a more corporate environment that?s just not something you can do, things aren?t that flexible. When I collaborate on a project, I?m working with great people; people who bring out the best in me and who complement my skill set.
"I?m a presentations trainer. That means I need to understand something of my clients? world before I can work with them in detail. One week I can be working with architects and learning about how buildings are conceived, designed, costed and built and the next I?m working with one of the top UK experts in the field of internet security.
"It can be a minefield, but it?s a satisfying one. And it really does live up to that cliché that every day is different."
Harriet Thomas, Boogie Mites
"It's a buzz like no other."

"The best thing about running your own business is creating a product or service that you are passionate about ... and then seeing your customers get passionate about it too. Another great thing is that you can work flexible hours that suit your other commitments. I started Boogie Mites when I was a mum with two children under three; now my kids are grown up I still like the fact that if the weather is nice I can choose to work from 6am to noon, then spend three hours in the garden (I love gardening!) then do a few more hours working in the evening. I'm going off to Spain for a few days soon. Did I have to beg my boss for time off? No! My co-director and I have created a business that works for us.
"At the end of the day, starting up and running your own business is immensely rewarding. Yes there's a downside - most business owners work a long week often for below the minimum wage ... it's for risk-taking, hard-working people who never stop being excited at new ideas and enjoy stepping out of their comfort zone. And when it works it's a buzz like no other."
Neil Westwood, Magic Whiteboard and I Find You
"I don?t want a quiet life."

"Being my own boss allows me to do what I want to do; I used to work for the NHS and it was frustrating because getting things done took ages. Working for yourself means you can get things done much quicker and you get the rewards when things go well. You don't have to wait ages for someone else to make a decision.
"I like making quick decisions to grow Magic Whiteboard and I like developing new products that will impress customers. Being my own boss gives me the flexibility to live my life in a way that suits me. I work hard and enjoy the challenges of running a business. I don't want a quiet life. I want to create something new and exciting."
Gemma Went, online business consultant
"I love that the only people I have to answer to are my clients."

"This is my second business and I absolutely love it. It allows me the freedom to work the hours I want, which is perfect when you have a toddler. I love that the only people I have to answer to are my clients and I can design a business around my life - and design a business that creates the life my family wants. I'm a creative soul, always looking to improve or redesign things and I love that I can easily pivot my business and offer new services to fit with what my clients need.
"I can get up in the morning, have a leisurely breakfast with my three year-old, drive him to nursery, come back, walk the dog and then simply step from the hallway into my home office to start work, with no rush hour, no boss beating down my door and emails from fantastic clients that I've hand-picked because I want to work with them. What could be better than that? 
Rory MccGwire, Atom Content Marketing
"We choose our own company culture."

"When I walk into the office every day, I'm with a hand-picked group of people who I love working with. Likewise, we work with hand-picked experts when writing content, and use hand-picked suppliers for our other needs. We let people do what they are good at, and they thrive.
"We choose our own company culture. We choose which markets to tackle and which products to develop. As the owner I am exposed to financial risk, but the benefits are well worth it.
"I have enjoyed all my jobs working for other people, but a workplace as good as the one that we have created at Atom is a rarity."