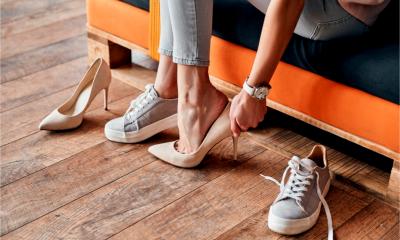 Janan Leo originally combined her full-time job with running CocoRose, her 'after hours' online business. However, her collection of chic ballerina pumps soon proved so popular she was facing manufacturing and international trade challenges. So how did her part-time business become an international affair?
"Although I created the concept in early 2007, it took me a year to launch my business. During this time, I worked on design and product development, branding, marketing, fundraising and building the supply chain. CocoRose officially launched in May 2008."
Work-life balance challenge
"Being in full-time employment while setting up and running the business was challenging. For more than two years, I sacrificed my evenings and weekends developing my business.
"My 'holidays' were spent at exhibitions and when I returned to work, colleagues would ask whether I had a relaxing holiday. I couldn't help but laugh and tell them I'd been on my feet for days and I'm even more knackered than before. The passion, belief and determination I have for CocoRose always kept me going, though. Plus, I love shoes!"
Finding suppliers
"When setting up CocoRose, one of my biggest challenges was finding a reputable and reliable supplier to produce my designs.
"Quality and attention to detail were extremely important, as was flexibility and willingness to produce innovative products. New products cost money and time, but I was willing to take the risk - I just needed a good supplier to take it with me.
"I remember the first day of production. I was badly let down and everything seemed to come crashing down around me. However, I picked myself up and a few months later, I found my current supplier, who is amazing. We've had our hiccups and will probably continue to do so, but we've developed a good relationship, which is fundamental."
Janan wanted to manufacture her shoes in the UK, but this proved tricky so she started by manufacturing the shoes in China and her purses here in the UK. However, that soon became a logistical nightmare so she had to move the whole manufacturing process to China.
Eventually, Janan approached the British Footwear association for help. They were able to put her in touch with a company that enabled her to move some of her manufacturing back to the UK.
Developing the international side of the business
Janan's hard work and passion was paying off and the company was growing. Although she admits that international trade was always in her long-term plans, it happened much more quickly than she expected.
CocoRose was spotted by an Italian company and they approached her about selling her shoes in Italy. That company became her distributor in Italy and other parts of Europe.
Her main export markets are now Europe, the Middle East and Japan. "We don't have long lead or shipping times," she says. "It's a couple of hours rather than a few thousand miles and people are becoming a lot more aware and passionate about buying British.
"The majority of our website sales are from the UK, but we've had orders from as far afield as South Africa, Hong Kong and Hawaii. We supply wholesale to Japan and our products do very well in Tokyo's boutiques."
Managing sales and marketing
"I outsource my PR, but work closely with the agency that works for me. We work proactively on our campaigns to create fun, catchy and relevant content that ties in with our new ranges and trends. We also collaborate with other businesses on joint promotions and send out monthly newsletters to our customer database, telling them about our new products, events and offer competition prizes.
"I network as much as I can through business events, websites, social media sites, etc. I always carry promotional postcards with me, too. One day, I was walking past a lady in the street who was changing into heels from her flip-flops. I stopped and gave her a postcard. Later she emailed me and it turns out she's marketing manager for a fantastic organisation and she asked if we could work together. Often such things take courage, but the worst thing is not trying."
Janan's three key lessons
Brush up on your time-management and organisational skills.
Provide a fantastic product and service.
Research and identify partners that understand your brand and that will work with you.
You can find other case studies like this on the Enterprise Nation website, where you can find lots of good advice about starting a home-based business.