Buying and selling overseas - free guide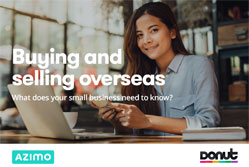 Our fantastic new guide to buying and selling overseas, produced in partnership with Azimo, is packed with useful information including:
overcoming obstacles
key export and import rules
controlling your costs and cash flow
sourcing products and services overseas
paying overseas suppliers and employees.
To download your free guide to buying and selling overseas, please complete the following details:
*Note: Please contact us at [email protected] if you have any issues.
This one not for you? We have a range of downloadable free guides created in association with the experts, giving advice on how to start up and succeed in business - find them all here.