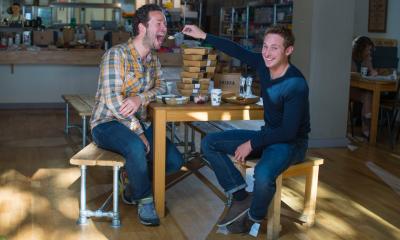 Griff Holland set up Friska back in 2009 with fellow Bath University economics graduate Ed Brown. Although they have big plans for their Bristol-based takeaway with a difference, as Mark Williams finds out, profit is not their only goal
Griff Holland has already had a colourful life. The Bristol-based businessman started life in Sao Paolo, Brazil. "My dad's English - he was working there as a teacher. Mum's Brazilian - she's also a teacher. We moved to Bracknell in Berkshire when I was six and later to Wokingham," he explains.
Even as a child, Griff could spot a business opportunity. "For my seventh birthday party mum made a delicious chocolate cake - all the kids loved it. The following week, I took pre-orders and got mum to make three more and I sold pieces to kids in the neighbourhood."
He also had a social conscience. "At school they played a video showing the plight of Brazil's street children, which had extra resonance with me, so I organised a bring-and-buy sale at school and we raised a lot of money for an orphanage in Brazil."
Economics graduate
Much later, Griff went to Bath University to study economics and international development. "I enjoyed A Level Economics - I just seemed to get it… The way economics affects and is affected by other things - it's fascinating."
After graduating, Griff met Ed Brown at a business networking event in Bristol. Ed had also studied economics at Bath University and graduated in the same year. "That was the first time we'd met - our paths had never crossed at university. There was a lot of common ground and we got on well. We both wanted to create the same type of business, even though neither of us knew exactly what that would be."
Soon the pair were planning what would become Friska, which has since become a successful fast-food business with a difference. Why food? "We thought we stood a better chance of creating a successful food business - not that it's easy, it's not. But we had some good ideas about how we could make it different," adds Griff.
Success on a plate
"We identified a gap in the market for a lunchtime takeaway that sold healthy, sustainably sourced, delicious food - our strapline is 'Feel Good Food'. Bristol has a vibrant food culture and we were confident local people would like what Friska was offering.
"We knew Bristol would be big enough for us to launch more outlets, so we could grow here first before looking further afield. We now have nine restaurants in Bristol, three in Manchester and a branch open 24/7 in Luton Airport. In 2017 we secured significant outside investment to grow Friska into a national chain - that's our ten-year plan."
Friska world cuisine options are only made from fresh, seasonal, healthy and ethically reared/produced ingredients and its meats are free range. Griff adds: "We're based in Bristol and Manchester's central business districts, so we face a lot of competition, but offering something altogether different has fuelled our success. We're a world away from your run of the mill sandwich shop - we've challenged perceptions about fast food. And once people try us, they usually become loyal customers."
Community spirit
Away from work, Griff likes to go to the gym or the cinema. "To be honest, after a hard day or week, mostly I like to do nothing," he laughs. "I'd love to travel more, but because of the business I can't spare the time or money at the moment."
Friska takes its responsibilities as a community-based business seriously. Via their Good Food Network scheme, Griff and Ed regularly visit local schools to espouse the healthy eating message. They also work with the Deki Partnership providing micro finance to entrepreneurs in the third world and Frank Water providing clean drinking water in India. On an ad hoc basis, they help worthwhile causes if they can. "Shortly after the earthquake in Haiti, we sold cakes to raise money for relief agencies. We also ran a soup kitchen evening at a local homeless shelter and we've done other things.
"Having a positive impact on communities near and far is at the heart of our values. We're friendly to our customers and we treat our staff well. Customers care about where they spend their money. They expect businesses to be responsible and ethical, but we don't just do it for those reasons, we genuinely believe it's important to give something back when you can."
Griff's top tips
"Have a clear idea of what makes your business unique - what is your USP?"
"Be prepared to react to customer feedback - don't be stubborn."
"Have a vision of where you want to take the business - otherwise the sacrifices you make will seem very hard indeed."
Want to find out how Griff and Ed set Friska apart from its competitors?