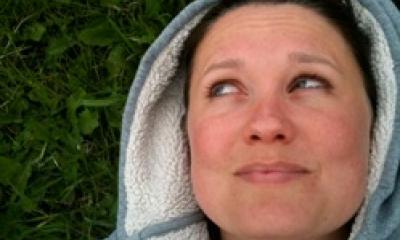 For seven months of the year, Hester Moore (pictured right) operates Festival Postcards, a unique postal service for those who go to music festivals such as Glastonbury, Latitude and Bestival. The rest of the time she is a London-based freelance office and event coordinator who markets herself as Girl Friday. So what's the secret to running a successful seasonal business?
"My father, who is an artist, created Festival Postcards in 1981 with my mother before I was born. They live in Devon and were looking to fund their love of attending festivals, and came up with the idea of supplying festival-goers with postcards they could write and send. My mum used to drop them off at a post office nearby.
"The first festival they did was Glastonbury and they started going to many more, taking us with them. By the 1990s the business had grown significantly. I'd been helping out for many years, but I took over running the business in 2005."
Running a seasonal business
"My key responsibilities when running my seasonal business include liaising with festival organisers, production teams and site managers; recruiting team members; setting up and de-rigging stalls; ordering postcards from printers; and managing finances.
"I don't close my seasonal business down - but there are months when there's nothing to do, usually from late August to early January. In January, I start to prepare the business for the summer months. I begin with making pitch applications to organisers. In April and May, I pay festival organisers and order stock.
"By late May, I can't carry on with my other work commitments, I have to concentrate on Festival Postcards. There's so much work to be done and it must happen in sequence, so I have to think ahead, know what I need to do and remain organised."
Recruiting for a seasonal business
"In May, I also start getting a team together to staff the stalls - normally friends and family. We pay them, even though I know many would be happy to work for free in return for free entry and to help me out. We don't pay them a fortune, but we look after them and they have a great time, so everyone's happy.
"The end of our season comes in August, so we're busy for three months or so, then it's all over.
"Why do I like it? I enjoy working outside all summer. I love the festival community, too - it's something I've known since childhood. I like the freedom of combining both professional roles - thankfully it all fits quite well.
"Running a seasonal business means I can't have a 'proper' job. I'm passionate about Festival Postcards. It's a labour of love - hard work, too - but it generates some income. If I didn't enjoy it, I'd pack it in.
"The other stuff I do creates enough money to live on. I enjoy that, too, but the people I work for know that come summer, I'll be off to run my own seasonal business.
"Sometimes when I'm tired, cold and hungry, stuck in a muddy field having not sold many postcards, I wonder whether I'd be better advised to just go and get a full-time job, but that soon passes."
Risks and challenges for seasonal businesses
"There are risks. Festival pitches are expensive these days. Margins are very tight, so if a festival is a washout, we might not make any money, but still have to pay staff and other outgoings. It can be hard getting people to come and work for your seasonal business, because most have full-time jobs.
"Marketing is a challenge, too. It takes three to four years to get established at a festival, so that regular attendees know you're there and that they can trust you. They need to find out that the postcards they send reach their destinations, then they might come back to you. Our postcards usually arrive the next day, so we do get people regularly coming back to us at Glastonbury."
Cash flow management
"Managing cash flow is another big issue. Our revenue enters the business over a few short months in the summer, but later I need to spend to set up the business for the season to come. Having money just lying there in a bank account earning little interest isn't ideal, but at least I know it's there when I need it.
"I've considered ways to diversify so the business could trade for longer, but it's not really possible. Postcards don't really sell that well any more. They're OK as a novelty purchase at a festival, but I can't really see what else I could do with the business model.
"In any case, I'm perfectly happy running Festival Postcards as a successful seasonal business."
Hester's three key tips
Don't try to make your business work for the whole year if it only has appeal for part of that time. Have something else lined up for when your sales slow down or stop.
Be enthusiastic, work hard and run your seasonal business well. Just because it only runs for part of the year doesn't mean you can be half-hearted.
Be meticulous when setting up or getting your business ready to start trading again. Neglecting important tasks, such as hiring staff or ordering stock, will cost you. Taking care of all other tasks should leave you free to maximise sales in the time you have available.