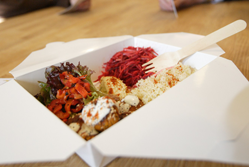 Griff Holland set up Friska, his Bristol-based takeaway with a difference, with business partner Ed Brown in 2009. From the beginning, the Bath University economics graduates recognised the value of offering something new and different to other food outlets nearby. Griff explains how he does it
"Friska sells 'Feel Good Fast Food'. Our ingredients are fresh, seasonal, healthy, interesting and ethically reared and/or produced. Our meats are free range, too.
"Our 'Feel Good' ethos extends to our community work through our Good Food Network - a healthy eating schools project - and other charitable activity. Our packaging is biodegradable.
Competitive edge
"We're based in Bristol's central business district, so we face a lot of competition. There are six other lunchtime businesses within a couple of minutes' walk. Largely, they offer traditional lunchtime sandwiches, which we don't sell, so on the face of it you may think we don't face any 'direct' competition. However, all of our competitors offer something for lunch for under Fiver, which is our target market.
"Our challenge is to persuade people to swap their usual sandwich for something different, such as our chicken and pomegranate salad served with gourmet rice and slaw or Lebanese lamb meatballs with cous cous and slaw. Once people try our food, usually they become loyal customers - 'tuna mayo on white' just doesn't do it anymore.
Value for money
"We're also trying to challenge misconceptions about value for money. Our salads, for example, represent a complete, filling and balanced meal for under £5. Excellent value. Competitors selling sandwiches offer them as the 'main part' of a lunch for, say, £3, which is cheaper. However, people then buy additional items to make up a meal, such as crisps, etc, which means they end up paying more than £5 for a less healthy, less satisfying, 'run-of-the-mill' lunch.
"Our menu sets us apart. It's unique because it offers seasonal, healthy fast food that mixes traditional European cuisine with more exotic world recipes. Dishes are made on site from the highest quality ingredients. Our service is friendly and personal. We ask our visitors for their first names when they order, so instead of shouting out 'vegetable tagine' it's 'Lizzie, your tagine is ready'. People prefer the personal touch.
Ethical business
"Customers support our ethical approach to business, which is another reason they keep coming back. They're interested in our menus, suppliers and community work. Visitor advocacy generates positive word-of-mouth, so more people are drawn to us.
"Our approach to business also keeps the whole Friska team motivated and happy. Morale is high and we've created a working culture that's inclusive, respectful and mutually beneficial - we have a pro rata profit share scheme. We also invite team members and customers to suggest recipe ideas, which gives them an added sense of ownership.
Unique selling point
"Although we very much believe in what we do - it's not a marketing gimmick - if we hadn't actively taken steps to differentiate ourselves, we'd be just another sandwich shop, which makes marketing even harder. Being different - if you get it right - has appeal.
"We get a real buzz from creating a vibrant business that is doing something different and challenging people's perceptions of fast food. Personally, I can't imagine getting excited about something I'd seen a million times before.
"The way we communicate with customers is also different to our competitors. We've fully embraced online social networking. Friska has its own Facebook and Twitter pages, through which we interact with customers. Our branding sets us apart, too, probably the best indication of this is our website. As a brand we're focused on our customers, the community and the environment.
"We've created a community of followers and advocates through great food and great customer service first and foremost, but also because we do things differently and customers share our beliefs.
Recipe for success
"We want to create a community of visitors - rather customers - who spread our feel-good-food message. We want to do what we do with passion, creativity and a smile. We want to make a positive impact on the wider community. We want to be the UK's number one healthy convenience food company. We don't want to sell sandwiches."
Griff and Ed's three key lessons
Come up with an original concept and/or way of delivering your product or service to your target market.
Do it with passion and enthusiasm.
If you are sold on your idea stick to it and don't listen to every bit of feedback you get. If Friska had then we'd be serving cake on doilies and – we'd be selling sandwiches.
Since this piece was originally published, Friska has enjoyed significant growth and now sells from six locations in Bristol, as well as offering catering services for events and parties.