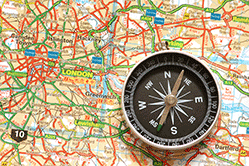 A business plan is the equivalent of a roadmap for businesses. It is a document that provides vision, goals and benchmarking. It creates momentum and also provides an opportunity for a reality check – what worked last year, where the gaps are and what next year is going to look like.
Many start-ups fail because they lack a map to guide them through their new business venture. A research study conducted by simplybusiness.co.uk with 400 British entrepreneurs shows that 54% have no written business plan and more than two-thirds make decisions based on gut instinct alone. According to the Federation of Small Businesses: "Britain's best performing small companies are being hampered by a failure of the planning system to allow them to expand".
Writing and maintaining a regularly updated plan can have a profound impact on business success, helping to demonstrate the viability and value of a business to potential investors and illustrating how investment will be used to grow sales and profit. It also provides a useful reference point and motivational tool for the business owner.
In terms of content, a plan should document objectives and strategy across three key business areas; marketing, operations and finance. These aims should be quantifiable and split between short term (next 12 months) and longer term (next three years). Other sections can include:
A description of products and services – detailing the main products and services the business provides/proposes to provide in time.
Market research – results of any research conducted to validate the business concept.
SWOT (strengths, weaknesses, opportunities and threats) analysis – illustrating the position of the business within the market in relation to competitors and identifying areas of opportunity.
In summary, a business plan helps to focus clear roles and goals and motivates business success. As Matthew Brearley, former board director of Vodafone, said: "With a great plan you can engage others with a sense of direction and purpose, align all activities and review progress." 
John Davis is managing director of Business Centric Services Group.