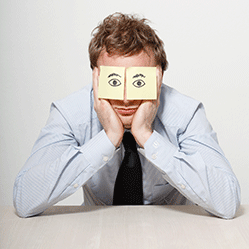 Research published recently suggests the average working adult in the UK is "59% happy in their current job role". Researchers commissioned by Surbiton High School asked 2,000 employees to rate their level of contentment at work in 11 key areas, "from pay and company perks to relationships with colleagues and management".
According to the study, workers are generally satisfied with their holiday allowance and relationship with colleagues, giving ratings of seven out of ten for both. Perks received four out of ten, the lowest score, with employees believing they should be entitled to mobile phones, laptops and even private health care.
Respondents were unhappy about their promotion prospects, which were rated just five out of 10. They gave a more encouraging six out of ten each for level of pay, relationship with the boss, work load, working hours, working environment, social life, size of team and hierarchy.
14% claimed they would be happier if they were allowed regular tea breaks, while 34% appreciated being able to manage their own workload. One in three said they liked the feeling of being able to make a difference, while 22% wanted to be able to talk to people every day. An easy commute was also important to 35% of people, while 18% said they would appreciate yearly bonuses.
When it comes to profession, teachers were happiest at work (presumably the poll took place before Education Secretary Michael Gove called for pupils to work longer days and have fewer holidays), with the "satisfaction they gained from working with children far outweighing the negatives". Secretaries were second happiest group at work, followed in order by engineers, accountants, drivers, shop assistants, caterers, trades people, lawyers and those working in customer care.
Career dissatisfaction continues to be a key reason why people continue to give up their jobs to start their own business, with numbers continuing to rise. According to Enterprise Nation, there was a 10% increase in new businesses in 2012 (484,224) when compared to 2011 (440,600).