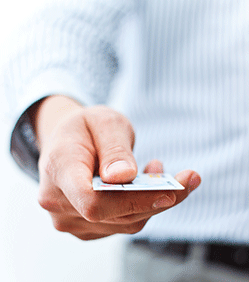 Mobile Chip & PIN payments are becoming more popular around the UK. This is mainly due to the fact that they are an inexpensive and modern way to increase profit.
For a while now, small-business owners have been unable to accept card payments due to problems with traditional card readers. This is due to the fact that they involve lengthy and expensive contracts, monthly fees and equipment that is bulky and hard to transport. Mobile Chip & PIN payments solve this problem by providing a non-contract service, with no monthly fees and a sleek modern design that fits with any business image.
There is no doubt that there are benefits to employing mobile rather than traditional Chip & PIN technologies, however, you may be asking yourself why it is necessary to even take cards?
One reason is that accepting cards gives your customers the option to pay by a variety of means. This might sound like a non-issue, however, one of the biggest reasons that merchants loose business is interrupting "customer flow". Specifically in the situation where a customer wishes to buy a product, but has no cash on them, if the customer cannot pay by card they simply have no option but to leave. In this case, the merchant has not only lost out on a sale, buhas also lost a customer whose opinion is valuable to your business.
This brings us to the second benefit of accepting card payments – customer satisfaction. Most businesses strive towards providing excellent customer service, after all, for small businesses referrals are often the best advertisements of all. Disappointing the customer by not offering a convenient way to pay may come back to haunt you by damaging your reputation.
However, the direct benefits do not stop at the customer. Taking card payments means that your business does not have to run the risk of having large amounts of cash stored, it also saves on daily trips to the bank to deposit the money. Perhaps the biggest advantage to a small business owner, though, is that is allows for more efficient accounting. By accepting more cards and less cash, it means that your transactions are easier to keep track of, which is vital for financial planning.
Mobile Chip & PIN payments are secure, with all reputable companies required to pass rigorous security checks and verifications. They are also convenient for both customer and merchant, and are a great tool to increase profit. So why not find out more?
Blog supplied by mobile card payment solution provider payleven.