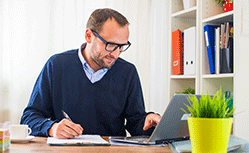 There's no denying that as a working population we are experiencing the throes of a revolution – and a flexible one at that. The concept of flexible working is one that is rapidly emerging, resulting in the adaptation of the traditional workspace as we knew it.
Rapidly advancing technologies are making it easier than ever for professionals to work remotely, on the move and reduce the need for a business to run its operations entirely under one roof 9-5, seven days a week.
The number of employers offering work-from-home options increased from just 13% in 2006 to 59% in 2011, according to the CBI/Harvey Nash Employment Trends Survey 2011. Indeed, its most recent survey in 2012 also spoke of the flexibility of the UK's labour market, believing its freedom has made the country a good location for sizeable international projects.
Flexible working has psychological, financial and business benefits and these all result in heightened productivity and efficiency. Finding the right work-life balance is something we all strive for and can be one of the biggest challenges any entrepreneur faces when starting a business. Flexible working hours, whether that means working alternative hours or at different locations, may help to strike this balance.
One of the many reasons entrepreneurs start their own business is because they feel stressed and restricted by conventional working hours, particularly if they have young family commitments. The ability to work outside the office and keep your fingers on the pulse is a positive for both employees and employers.
Small-business owners concerned about the bottom line are also welcoming flexible working because it is proven to be good for businesses, too.
The Department for Work and Pensions produced a report on the effects of flexible working on employees and employers and it found a marked reduction in costs as a result of fewer people missing work or leaving their positions. Similarly, 58% of small-business owners recorded notable increases in productivity within their workforce.
Flexible working has made business increasingly global. Firms can entertain the idea of spreading their net further than ever before by travelling overseas for client pitches and meetings without the fear of taking their eye off the ball back at headquarters, with email, apps and the cloud improving connectivity in ways we could never have imagined just a couple of decades ago.
The growth of business hubs and fewer business owners demanding central office locations, combined with the continued use of smartphone and tablet devices means professionals can increasingly take responsibility for finding their own work-life balance.
Guest blog supplied by Generator, one of Europe's fastest-growing hostel accommodation chains, with eight locations across the continent.