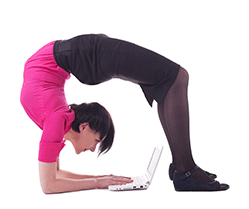 Flexible working isn't right for all businesses. Call centres, for example, can only function with a traditional workplace structure in place. For creative and consultancy-based disciplines, however, you can match and even exceed productivity by giving your staff greater flexibility. In our quest to be a better employer - and get the most out of our staff - we've learned a few lessons we wanted to share.
1. It's not for everyone
Teams that perform knowledge-based roles can work pretty much anywhere they can get reception and plug in a laptop. For that reason, we have a developer who works 300 miles away and barely steps foot inside our Stockport-based offices. Similarly, I'm only in the office two days a week, spending the remaining three beavering away from my home. All the work gets done, though, no matter where we are located.
However, we need our distribution staff to work in our warehouse to set hours, it's the only way to meet delivery deadlines. Flexible working for this function is just not an option.
2. Use a flat not hierarchical managerial structure
If you're adopting a more flexible hours/location approach, you'll need to revise your line management model, and the solution for this is to replace a hierarchical structure with a flat one.
This means instead of employees measuring their progress by their peers, they measure their own achievements against KPIs (key performance indicators) you've agreed with them.
There are three reasons for having a flat structure. Firstly, it's purely practical. If your employees are working out of the office, they no longer have peers constantly within sight to use as benchmarks. Secondly, they become more concerned with their own development than their colleagues' - reducing time spent on office politics, increasing time spent on development. Thirdly, you are both very clear on what you expect from them.
3. Technology makes things much easier
Thanks to today's technology, you and your team can be virtually in the same room, even though you're physically miles apart. Meaning there are lots of ways combine the benefits of working from home with those of being in an office.
For example, I work at home for three out of five working days each week. But Google Hangout allows me to virtually work side by side with colleagues who also work at home. We turn the camera off (as we have no interest in being in our own reality show!), but keep the sound on so we can talk through issues in real time, update each other on projects and ensure we have a healthy amount of banter to keep us sane.
We'd also recommend ensuring you're in constant communication with your team, even if you're working remotely. Each morning our senior team 'meets' for a 20-minute call so we can discuss the previous day's activity and agree plans for the day ahead. It ensures we're all working in sync.
Finally, we're huge fans of Google Suite. It's a fantastic tool with a series of apps that allow you to collaborate on one project at the same time and save files to a cloud. Meaning there's no need for a hard drive, jobs can be are completed much faster and gone are the days of 23 versions of the same document.
4. KPIs are key
We all know that a project's success is due to the productive hours put in - rather than the minutes clocked up with bums on seats. Just because someone appears to be at work does not always mean they are!
But we know from talking to some of our 'old-skool' contacts, it can be hard to trust that staff are working when they're 'working from home'. So we're huge advocates of KPIs. They enable you to set targets and measure progress, leaving you to trust your employees to get on with their work. If they're hitting the numbers, the work's being done - and it doesn't matter if they're working from midday until 6am or from their second home in Spain.
The benefits
Replacing a traditional workplace structure with something more fluid has delivered two key benefits to our business. Firstly, our time has increased. We no longer have to deal with the endless 'can I leave early?' questions, which zap time that can be better used.
Secondly - and most importantly - staff are happier, more relaxed and able to achieve a better work-life balance. By trusting them, they respond with greater productivity, resulting in a win-win for everyone.
Blog supplied by Sean Blanks, marketing director of Cartridge Save Ltd ("the UK's largest reseller of ink and toner").