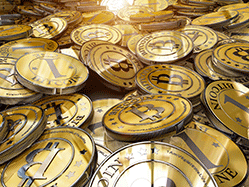 Does your business have a blog, website or video channel? If so, you could start asking people who visit your site to start donating Bitcoins.
What is a Bitcoin?
Online currency, you can use it to buy things such as domain names, electronics, food and professional services.
What is it worth?
The value changes a lot. In January 2013 it was only worth about £10, but by late November it had reached a high of £750.
How can I get some?
There are many ways. You could start donating your computer power to help run the network (a process called 'mining') or you could sign up to an exchange such as MtGox.com and buy some with pounds. Unfortunately, both of these options can take time and effort and you might end up losing money. A safer and simpler bet is to start taking Bitcoin donations.
Why should I bother?
The Bitcoin community is very generous. Bitcoin users know that the more people who own Bitcoin, the more plausible it becomes as an idea. Also, because it's really easy to donate, you might be pleasantly surprised by how much you could earn.
Here's a step-by-step guide on how to start…
1 Get a Bitcoin wallet
You'll need a wallet to receive, send and store Bitcoins. There are three types of wallet: software, mobile and web. The Bitcoin website features a useful guide and a list of downloads to help you get started. For maximum security, we recommend that you choose one that doesn't use a third party. To avoid cyber theft, you should always encrypt your wallet with a strong password. We recommend one at least eight characters long, using a combination of numbers, symbols and upper/lowercase letters.
2 Note down your wallet address
Once you've set up your wallet you'll be given a wallet address. You'll need this so people know where to send donations. It will be a string of between 27 and 34 numbers and lower/uppercase letters beginning with a 1 or 3.
3 Spread the word
Accepting donations is as easy as posting your Bitcoin address on your blog/website. You may want to provide or link to some info about Bitcoin too in case users without any Bitcoins also want to donate. When you have a donor, your wallet will message you a notification telling you how much has been sent. Your Bitcoins are then free to save or spend as you wish.
Blog contributed by Nick Chowdrey, finance and accounting writer for Crunch, online accountancy firm for freelancers and small businesses.