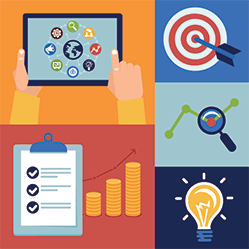 With record numbers of people starting their own new business, hopefully 2014 will be another triumphant year for start-ups in the UK. If you want to make the leap, finding your feet may seem daunting, but don't let fear prevent you from stepping out on your own. To help those who are thinking of starting their own business, Aisling Brennan of eFax and Rory Whelan of eReceptionist share their top ten start-up tips.
1. Have a business plan
If you fail to plan, you plan to fail. You should have a succinct and clear business plan. Not only will it enable you to monitor your business's success, but it will also prove useful when asking outsiders for funding. Conversely, don't be beholden to the plan. The pace of change in business can be rapid, so make sure you're able to adapt. The joy of entrepreneurship is often the ability to make decisions 'on the fly'.
2. Set up from home
Why waste precious money on renting an office if you can run your business from home? A proportion of your electricity bills and mortgage payments can be offset against your business tax bill and it's now simple and cost-effective to set up a second phone line for business calls. When you bundle your number with a virtual office phone system you can even have a real-time receptionist answering and directing your calls, so you never miss a business opportunity.
3. Keep track of your finances
Hopefully, the money will be flowing in from the start. However, don't get too carried away, always keep good track of your financial status. Do you have savings that can be invested and will these be enough? If you don't, approach potential investors and lenders early on. Don't rule out considering government-backed funding, too. Investigate the many business incubator services that are on hand to advise you, and in some cases they offer financial backing.
4. Don't go it alone
Taking on the responsibility of running a business all by yourself might be too much, especially if you have a family. Find a business partner who shares your goals, but perhaps someone with different skills and knowledge, so you complement each other.
5. Create a buzz
If you don't shout about your new business – who will? Make the most out of social media to spread the word. Similarly, something as simple as asking your customers to tell others about you can make a big difference to your sales. Also, network like mad. This doesn't have to be at networking events, but just in your daily activities. Keep telling people about your business and in some cases you may find yourself talking to someone who wants to buy from you.
6. Image is everything
A good business name, business cards and a professional website all contribute to how your business is perceived, but don't underestimate the power of your telephone number. By setting up a national 0800 number, you can look bigger, but having a local phone number need not limit your ambitions. For example, should you want to appeal to customers in Birmingham despite being Manchester based, it's easy to have an 0121 number with calls routed to your existing Manchester landline.
7. Pick up the cost
Customer like 0800 numbers, because they are free to call from landlines and will soon be free from mobiles. Our research shows that UK businesses experienced a volume increase of 167% when they switched to an 0800 freephone number.
8. Go digital
Keep your start-up costs to a minimum and look to invest in cloud-based services. Investing in the right fax software will make running your business smoother, less time-consuming and more cost-efficient. Digital faxing eliminates the need for fax hardware, while allowing you to sign orders or contracts through a digitised signature anywhere from your mobile.
9. Don't focus on just one area
Customer care, business development and administration are the three key areas you should concentrate on. They are all equally important, so all require equal attention. If you neglect one, it will have an impact on the business as a whole. No one likes doing paper work – but it needs to be done.
10. Don't give up
Learn from your mistakes and adapt accordingly. Be prepared to continue refining your methods as you encounter new hurdles. No one successful ever launched with the finished product, so keep tweaking and adding. You'll learn so much from your first few sales and customers to help you refine the way you do business and make things easier for the future. Keep motivated and don't lose sight of why you started the business in the first place.