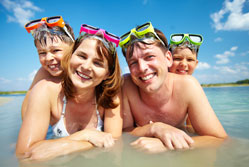 Research suggests that going on holiday not only makes you feel good while you're away, but also helps you feel better for weeks, sometimes even months afterwards.
But how many business owners have taken heed of the advice provided by the Holiday Health Experiment, as reported in 2013 by tour operator Kuoni and Nuffield Health, which urged us to make sure we get away? Huge numbers of us appear not to be resting sufficiently and we know that start-ups and sole traders are among the worst at letting go, fearing leaving their business unmanned.
As much as we know we need it, we can all come up with reasons not to take a holiday ('I'm too busy', 'no-one can look after my business like I do', 'I can't afford to take my foot off the gas', etc). But whatever reasoning is holding us back, think again, because jetting off has been clinically shown to reduce blood pressure, help us sleep better and bounce back from stress, benefits that shouldn't be ignored.
But it's not just about getting away; it's about completely switching off. Years ago it was technologically impossible to keep in touch on a beach, but now it's the norm, with emails, text messages and social media with us wherever we go – but only if we choose to have it that way.
As tempting as it is to always have one eye on business, we are risking our health and wellbeing and thereby our ability to perform well at work if we don't take a proper break. So, the benefits of a complete break are clear, but we are still surrounded by evidence of business owners struggling to switch off.
Earlier this year, Alexander Ehmann, deputy director of policy at the Institute of Directors, said: "You won't be able to stop people checking their BlackBerry from the beach, and it may be necessary to be contactable in emergencies, but we'd call on businesses to use their common sense and relax when on leave."
Part of being able to switch off is ensuring your business is covered while you're away. Holidays are always a challenge, whether for start-ups and smaller businesses anxious about staying in control or for larger businesses juggling staffing levels. In a fast-moving, 24/7 world it can be difficult to let go, but with the technologies and services available today there's no reason why business owners should not be able to relax and enjoy their holidays.
Returning from a holiday feeling happy and healthier makes for greater productivity and creativity, so don't be afraid to relax. After all, regular, restful breaks are the best tonic for you and your business.
Blog supplied by Lisa Gough of telephone answering service provider Moneypenny and virtual phone system Penelope.