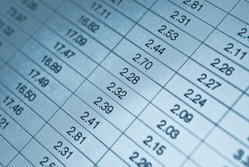 Many new businesses use Excel spreadsheets to keep financial records when they start up. And while the familiarity, ease of use and affordability of this is understandable, as small businesses grow, by launching new products, opening at other locations or otherwise expanding their geographical reach, their accounting function must become much more complex.
Using disparate solutions across different sites can make consolidating annual accounts a challenging process. Likewise, for businesses that export overseas or import, multi-currency invoicing and transactions adds another layer of complexity.
To help them grow, businesses need accounting functions that can deal with growth. Additionally, the ability to create additional reports that provide up-to-date financials and that integrate with other internal systems and software is vital.
Fortunately, cloud-based (ie online) accounting systems can help businesses to overcome the constraints of spreadsheets, to become proactive rather than reactive and ponderous. And such systems can be very easy to implement.
The cloud allows SMEs to become more efficient. The most effective cloud-based solutions automate processes, remove time-intensive and unnecessary data duplication and close the gap between input and output. Reports comparing "actuals" (ie actual earnings and expenses rather than projections), budgets and forecasts can be created in minutes and accessed anytime, anywhere by various staff members.
Security and regulation can be more easily managed using cloud-based systems and the chances of human error become less likely. Technology will undoubtedly continue to be one of the key growth drivers for SMEs in the next decade. Therefore perhaps it's time for businesses to move on from spreadsheets to realise the potential offered by cloud-based accounting solutions.
Barbara is managing director of online accounting provider Twinfield, part of the Wolters Kluwer tax and accounting division.
Copyright © 2014 Wolters Kluwer (UK) Limited